AC Parts And Collecting Are His Lifelong Passion
Norm Meinert grew up in the 1940's and 50's on an Illinois farm that had Deere and Allis-Chalmers tractors. When his interest turned to collecting tractors, he saw many people going green and he figured someone had to to preserve old AC models. "I started with a WC and then restored a 20-35 Allis, which was made in 1928. Then I looked for the rare ones, like the 6-12, and I had a friend who knew where a 1914 model 10-18 was in Wisconsin. It took me 7 years to make a deal for that one," says Meinert.
    Over the years Meinert has acquired more than 65 AC tractors, including every model built from 1914 to 1959. His collection includes WC models first built in 1933, B and C models from 1940, the CA models from 1950, a WD model from 1948, and the WD45 from 1953. The oldest and rarest are the 10-18 and the 6-12, which were called Motor Cultivators. He acquired the 10-18 in a straight up trade for an International 15-30 Flaming Four, which was built in 1920. "I bought that tractor in New York and had it at my place about 4 hrs. I called the fellow in Wisconsin to get the 10-18, which was the first tractor AC ever made," Meinert says. "We were both winners in that deal, because he'd never been able to buy a 15-30."
    Meinert was trained as a tool and die maker so he was able to reproduce and manufacture replacement parts that were virtually impossible to find. "When I started collecting there wasn't a market for replacement parts, so I was able to create one," says Norm. In the past 15 years that's been his fulltime business. Norm's Antiques is the country's largest supplier of replacement parts, carburetors, and engine overhaul kits for AC tractors.
    Meinert spends countless hours a week producing manifolds, valves, clutch parts, piston rings, sleeves, wrist pins and bushings. He has a friend who rebuilds water pumps for him and another who makes radiator cores. Gaskets are reproduced by a state-of-the-art laser cutting facility. Reproduction emblems and decals are made to the OEM specifications by a U.S. supplier. "In recent years we've shipped parts to Australia, New Zealand, the Netherlands, the UK and all over the U.S. and Canada," Meinert says.
    Because of his experience and knowledge, Meinert is often asked to build extremely rare parts. "I've got parts quotes out that range from $3,500 to nearly $10,000," Norm says. "I could work 12 to 14 hrs. a day for weeks on end and not catch up."
    Meinert's real joy is spending time with his collection and attending shows. He's taken his tractors around the Midwest and to Washington State, New York and Florida. Meinert says his travel trailer has 375,000 miles and counting. On winter trips to Florida he tows the trailer and brings tractors along for shows in the Sunshine State. In September he always attends the Dalton, Minn., threshing show, where he tunes and operates several rare steam engines.
    Although he's not actively growing his own collection, Meinert says "old tractors and equipment are a tremendous investment. If I see a good deal, I'll probably get after it. If not, there are plenty of other people who want to add to theirs." He tells the story about one transaction he would've liked to have made, back in 1959. "A neighbor offered my friend and me a Fairbanks Morse 15-25 tractor and threshing machine for $100 each, and we didn't take it because that was a lot of money back then. I decided to keep track of it, and a few years later it sold for $675. In 1993 it sold for $9,000, which I thought was a huge jump. That was nothing compared to the $165,000 that it sold for in October of 2013 at an auction in New York. That's definitely one I would've liked in my collection."
    Most of the tractors Meinert owns are in running condition, but not all are completely restored. He works on his own tractors when he's not busy making parts for customers, "which is only a few hours a month." About a third of his collection rides on steel wheels. He hopes to pass the collection on to his son, but he thinks the parts business may need to be sold. "I've got older milling machines and surface grinders, lathes and drills and I know how to work with that equipment. Younger people learn and have experience on different types of equipment."
    Contact: FARM SHOW Followup, Norman Meinert, 10333 N. Davis Rd., Davis, Ill. 61019 (ph 815 865-5372).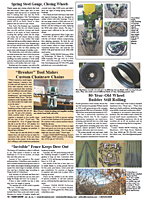 Click here to download page story appeared in.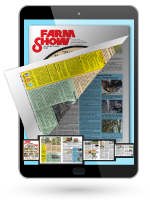 Click here to read entire issue
To read the rest of this story, download this issue below or click
here
to register with your account number.