"Sorting Out" The New Steiger-Built Tractors
Your local Ford, International Harvester and Steiger dealers all sell comparable size 4-wheel drive tractors built by Steiger.
Steiger offers 13 models of 4-wheel drive tractors, including the new Tiger ST-450 with 450 engine hp – billed as the world's most powerful mass-produced farm tractor – and also offers three ne "PT" tractors in the 225 to 350 hp range equipped with hydrostatically powered, electronically-controlled power take-offs. Steiger also builds "4 wheelers" for Ford and International Harvester.
In what respects are these Steiger-built tractors similar? How do they differ?
To find out, FARM SHOW compared specs and features on comparable size models being sold by Steiger, IH and Ford. Here's a rundown on who sells what:
Comparing Steiger-built IH tractors with comparable size Steiger tractors:
Steiger builds two models for IH – the 3486 (230 engine hp). Comparable size Steiger models are the ST-210 (210 hp) and the ST-310 (310 hp).
Here's how they compare:
Engines: Steiger uses a Caterpiller V-8 engine in the ST-210 and a Cummins 6-cyl. engine in the ST-310 IH uses thesir engines – an 8 cyl. in the 4586, and a 6 cyl. in the 4386.
Steiger literatures cite high torque rise (24% in the ST-210 and 15% in the ST_310) as a key feature of the engines they use.
Here's how the engines compare in cu. in displacement: Steiger ST-210 (636 cu. in); IH 4386 (466 cu. in); Steiger ST-310 (855 cu. in.) and the IH 4586 (800 cu. in.).
Frames: The frames of International Harvester tractors built by Steiger are made of 3/8 in. steel. Frames of comparable size Steiger tractors are made of 1/2 in. steel. Listed shipping weight of the respective models is: 18,800 lbs. for the Steiger ST-210; 19,300 lbs. for the IH 4386; 26,000 lbs. for the ST-310 and 21,500 lbs. for the IH 4586.
Axles: The Steiger-built IH tractors are equipped with IH "inboard" planetary axles. Steiger tractors now rolling off the assembly line are equipped with Steiger-built "outboard" planetary axles.
Cab: The IH "4-wheelers" built by Steiger are equipped with a cab similar to one formerly used on Steiger tractors. Steiger tractors come equipped with the company's new Safari cab which, according to Nebraska tests, is one of the quietest in the industry at under 80 decibels.
Power Take-Off: No pto is available on either of the two Steiger-built IH models. Steiger, on the other hand, now offers a just-introduced hydrostatically-operated, electronically-controlled pto on three new "PT" tractors in the 225 to 350 hp range.
Transmissions: Steiger offers 20 speeds forward and 4 in reverse. IH models have 10 forward speeds, 2 in reverse.
Comparing Steiger tractors with comparable size Steiger-built 4-wheel tractors just introduced by Ford:
Everything is essentially the same except for the color of paint and the type of engine used.
Ford offers four Steiger-built "4 wheelers": The FW-60 (335 engine hp); the FW-40 (295 hp); the FW-30 (265 hp) and the FW-20 (210 engine hp). Steiger's ST-310 (at 310 engine hp) is between Ford's FW-60 and FW-40.
Ford uses the same 8 cyl. Cummins (903) diesel engine in the top three models. They get more hp out of the same engine by using a turbocharger, different exhaust valves and different rings and fuel settings. Steiger, on the other hand, uses a turbo-charged 6 cyl. Cummins engine (855) in the ST-310.
In most other respects – including cab, seat, frame, transmission, hydrostatic pto and axles – comparable size Steiger tractors are essentially the same except for the color of paint.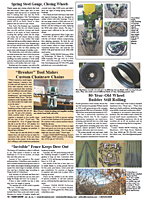 Click here to download page story appeared in.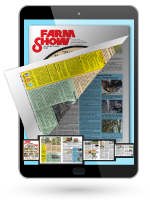 Click here to read entire issue
To read the rest of this story, download this issue below or click
here
to register with your account number.