Rear End Slurry Agitator
W.W. Layne, Concord, Virg., built a slurry agitator for a neighbor out of junk automotive and truck parts which, he says, are readily available to farmers everywhere.
"My neighbor, who operates a 200-cow dairy, had installed a flushing system for cleaning his barn and loafing shed. At the lower end of the barn, he dug a 10 by 20-ft. pit 5-ft. deep and fitted it with a concrete floor and sides. On the lower side of the pit, a pump was installed to transfer this slurry to a nearby lagoon whenever the pit reached a certain level. Pumping problems arose, however, when sludge settled to the bottom of the pit, clogging the pump. I was approached to build an agitator to keep sludge and water mixed.
"We took two pieces of 5-in. I-beam 12-ft. long and some old car and truck parts around the farm. I put the I-beams across the pit, 3 ft. apart, welding them together with two pieces of 6-in. channel on the bottom just in-side the pit to keep the I-beams from shifting. Then, I mounted a Ford automotive rear end vertically in the center of the I-beams, welding the top spindle in place so that only the bottom spindle and rim would turn. I welded two pieces of 1/4 by 3-in. angle iron in the form of a cross on the bottom of the lower rim to act as an agitating propellor. I then mounted an old pickup transmission on one end of the I-beam frame and connected adrive shaft to the auto rear end. Then I attached a 12-in. double V pulley on the drive end of the transmission and installed a 5-hp. electric motor with a 5-in. pulley and V-belts.
"The transmission usually runs in low gear although it can be shifted to higher gear and along with the reduction in the V-pulleys, gives just the right ratio speed to do the job. The motor, belts and pulleys were the only things we had to purchase.
"The agitator has worked well for several years. The idea should work as well on larger slurry tanks and lagoons."
W. W. Layne
R.F.D. #1
Concord, Virg. 24538 (ph 804 993-2335)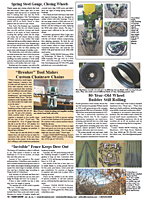 Click here to download page story appeared in.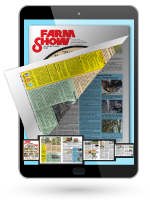 Click here to read entire issue
To read the rest of this story, download this issue below or click
here
to register with your account number.