Editor's Best, Worst Buys
We ask readers to tell us about their "best" and "worst" buys in every issue of FARM SHOW, so I thought maybe I'd put together a list of some of the buys I've made over the past few years. I'm an editor, not a farmer, so don't expect to see any big 4-WD tractors or fancy bale handlers!
Amazon.com: This is not just a book store anymore. It's where I buy everything from pressure washers to whisk brooms. When I need something, I go here first because it's fast, easy, priced right (usually), and I can order with just one click. Best of all, if you sign up as an Amazon "Prime" user for a fee of $79 a year, you get free 2-day shipping (or overnight shipping for just $3.99). Some of my recent purchases include light bulbs, copy paper, tools, vitamins, blank CD's. Whatever we need around the office at FARM SHOW, we order from Amazon.
Apple Computers: For the average user, who just needs to use spreadsheets, word processing, and the internet, Macs are the way to go. We run FARM SHOW on Macs, and I also use them at home. There are no virus issues to worry about, and they're not constantly "updating" themselves like your average PC. For shear ease of use and hassle-free internet surfing, you can't beat Apple. And yes, we buy them at Amazon.
Porter Cable 5500-watt generator: I bought this portable generator at Amazon as a backup for our FARM SHOW offices. Amazon was having a sale a while back so I got it for $699 with free shipping - about a $300 savings. It arrived in 3 days, along with a lot of peace of mind. The generator has enough juice to provide power to our compact offices for a few days, if we ever need it.
Deere LT166 garden tractor: There's a 3-acre field out behind our office building. We bought this mower 12 years ago to mow it and we've definitely gotten our money's worth. However, there have been a few problems. For example, a couple years ago the tilt-up hood broke off because the plastic hinges broke. In my opinion, NO hinge should ever be made out of plastic. The drive pulleys on the deck needed replacing earlier this year, and it seems like the front tires are always going flat û even though the field we mow is all grass. I hope tires on Deere's newer models have a bit more rubber in them!
CC Radio: This am/fm/tv/weather radio, which is widely advertised as as having the best reception you can get, has been on my desk for about 10 years. It was not cheap, at $125, and I wouldn't buy another one. Reception has never been better than the $15 radio it replaced. And recently the control buttons started falling off. I guess when I buy a $125 radio, I expect it to last forever!
Canon SD1100IS digital camera: This is the best little camera I've ever owned, and I've had quite a few. Retail price is $250 but I bought it on Amazon for $159. Picture quality is nearly indistinguishable from the $700 Nikon digital that I use for work. If you need a shirt pocket camera, you can't go wrong with this one. You can pay more for a small camera, but they won't be any better than this one.
Delta 2400 psi pressure washer: I bought this Honda-powered pressure washer at Sam's Club for $250 or so. I've used it for 3 years now to clean decks and blow off old paint jobs. Haven't had a single problem. Works great.
Tivo - This has to be the biggest advance in home entertainment since TV first came on the scene. It's also the most consumer-friendly product I've ever come across. It lets you watch programs when it's convenient for you (that's late at night for me) and I almost never have to watch commercials anymore - which I was extremely grateful for during this election year.
Got a "best" or "worst" buy of your own? Send it to me: Editor@farmshow.com, or mail to: FARM SHOW, P.O. Box 1029, Lakeville, Minn. 55044.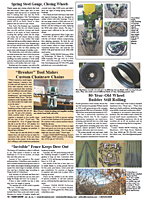 Click here to download page story appeared in.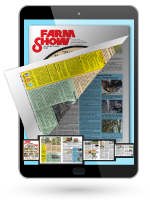 Click here to read entire issue
To read the rest of this story, download this issue below or click
here
to register with your account number.