Versatile Tractor Fitted With Semi Truck Engine Axle
When the engine and transmission on his Versatile 555 2-WD articulated tractor wore out, Dan McAmoil replaced them with the Cummins 855 cu. in., 325 hp diesel engine and 15-speed Road Ranger transmission out of an old Freightliner semi tractor. The steering system and articulation joints were also worn out, so he installed the truck's front steering axle, wheels and leaf spring suspension system.
    To improve the ride even more, McAmoil mounted a hinge on front of the cab and a pair of air shocks, off a 1/2-ton pickup, on back. The combination allows the cab to "float" up and down with the terrain.
    "No tractor can match this tractor's air ride suspension," says the Penokee, Kansas farmer. "I have a bad neck and back, and with the original tractor I could stay in the cab for only about two hours at a time. Now I can put in 10-hour days again.
    "Also, this tractor is much more fuel efficient than anything I could buy. With light loads like drilling and pulling a sprayer, it uses only about one tenth as much fuel as my Case-IH 7130 Magnum tractor with comparable power. I'm sure that with heavier loads, like disking, it would start to balance out some. The Case IH tractor just has too many clutch packs and gears turning to get the fuel savings of my tractor's simple drive system. I think it takes 70 to 90 hp just to drive the Magnum down the road at 10 mph.
    "The Versatile's transmission has just a straight gearbox, with no powershift transmission sucking power. Modern day conventional tractors have too many parasitic features such as mechanical front wheel assist and powershift transmissions. It takes 30 to 40 hp just to operate an 18-speed powershift transmission, whether you're using it or not. Another reason is that the Versatile tractor's rear axle has a reduction in it, so I can run the engine slow and get almost twice as many acres per gallon of fuel as I could with a conventional tractor."
    He bought the semi truck from a neighbor for $2,000. The truck had caught on fire while hauling hay on its flatbed. The fire burned the cab but didn't damage the engine or transmission.
    He cut 2 1/2 ft. out of the tractor's frame, removing the articulation joint, and moved the rear section forward and then rewelded the frame back together. The truck axle's spring shackles were bolted to the tractor frame. The truck's steering cylinder has a 2 by 8-in. stroke which makes turning a fast and easy job.
    The semi truck wasn't equipped with power steering so he installed a 30 gpm hydraulic pump to provide power steering as well as to raise and lower any implements. The pump is belt-driven off the engine crankshaft with a U-jointed driveshaft. A proportioning valve divides oil from the hydraulic pump between the power steering and hydraulic system.     He removed the tractor's original vertical exhaust muffler and replaced it with a horizontal exhaust pipe. The pipe extends horizontally from the turbocharger back over the tractor's right rear dual wheels. The exhaust system's length allows two power pulses from the engine at the same time, providing a chimney effect that helps empty out the engine cylinders and makes the engine more efficient.
    "I use it with a 24-ft. Great Plains drill to plant wheat and milo, and also to pull an 8-ton fertilizer spreader and a home-built sprayer equipped with a 60-ft. boom. It really works well," says McAmoil, who rebuilt the tractor two years and 1,700 hours ago.
    "Versatile tractors were originally designed to use semi truck components, so the frame rail width on this tractor is identical to that of a semi truck which made it easy to fit everything together.
    "The Cummins 855 diesel engine really runs nice. The tractor's original V-8 Cummins diesel engine had only about 210 hp. It ran at 3,200 rpm's and was so noisy that I had to wear ear plugs all the time. Now all I hear is a low rumble beneath my feet. The semi tractor's 855 cu. in. engine has extra power because it had been souped up beyond its normal specs by the previous owner."
    McAmoil says the tractor was worth only about $500 when he reb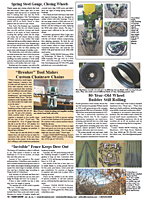 Click here to download page story appeared in.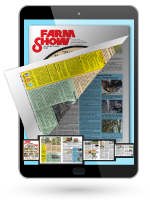 Click here to read entire issue
To read the rest of this story, download this issue below or click
here
to register with your account number.