New Way To Combat Drouth?
Two Iowa farmers and many of their neighbors are convinced they've discovered a promising new way to combat drouth.
"It was the worst drouth ever and we came through it with one of the best crops ever," reports LaVerne Hilgendorf, of New Hampton. He and Robert Harrington, of nearby Nashua, both farmers, are also regional distributors of Sea-Born Plus F, a liquid concentrate blend of seaweed, fish and other plant food ingredients. The "F" in the product, manufactured by Salisbury Laboratories, Charles City, Iowa, stands for the fish (ground up and steam boiled carp) taken from Minnesota lakes.
The foliar-applied fertilizer reportedly "saved the day" for Hilgendorf, Harrington and other farmers in a drouth-stricken, five-county area in North Central Iowa last summer where about 5,000 acres of corn, soybeans, and some wheat and alfalfa were sprayed with Sea-Born Plus F. This was the scene, as reported by area newspapers:
In a story published in the Waterloo Courier last Sept. 19, Lawn Griffiths, farm editor, noted that: "A visit to about a dozen fields in the Nashua area last Wednesday by this writer provided convincing evidence that the foliar spraying of the product caused sharp improvement in ear size, ear length and height of stalks."
Dave Overby, of the Charles City Press, Charles City, Iowa, noted in a story published last August that, "After a while, an observer begins to look for ears of corn growing on the fence posts, the fields look so good. But corn and soybean farmers aren't looking for miracles. They're just looking for improvement. And an improvement from 40-50 bu. of corn an acre to 180 bu. is improvement enough. The improvement is claimed by farmers and manufacturers of Sea-Born Plus F which has been sprayed on 5,000 acres of fields east of Charles City and has apparently saved much of the crop from the dryest summer in 42 years."
Vern Jacobson, field sales manager for Sea-Born, a subsidiary of Salisbury Laboratories in Charles City, says proof of the product's spectacular showing under extreme drouth stress came last fall when treated fields were harvested and yield data analyzed. Skimpily-documented data he submitted to FARM SHOW cited increases of 13 to 109% for corn, 13 to 60% for soybeans and one report of a 30% yield increase on treated wheat. Nine neighboring corn fields treated with the product (237 acres) reportedly averaged 84 bu. per acre, vs. 22 bu. for untreated fields nearby.
Outside of Iowa, it's estimated that Sea-Born Plus F was used on about 45,000 acres of assorted crops throughout the U. S. Jacobson contends that the yield increase nationally was about 15% "across the board."
FARM SHOW asked Jacobson for names of farmer-users of the product. He refused, explaining that farmers "do not wish to have their names publicized since they have been getting lots of phone calls and don't wish any more."
Meanwhile, Iowa State University agronomists, county extension directors and a lot of farmers are skeptical. Seaweed (without the fish) was unimpressive in tests conducted at Iowa State University several years ago and there doesn't appear, despite the flurry of activity in North Central Iowa last year, to be much interest among ISU specialists in testing it further. "It may show up in some work at a branch station or two but I don't know of any plans to do any large-scale testing of it," Garren Benson, extension agronomist, told FARM SHOW. "If I were a farmer, I'd want to know a lot more about the product before I spent any money on it," he advises.
Robert McCrackin, extension director for Floyd County, Iowa, also the home of Sea-Born, Inc., says he tells farmers who ask about Sea-Born Plus F "the same as I tell them about any new product. If you want to try it, test it on a few acres first to see if it does what they say it will do."
Asked how Sea-Born plus F supposedly "saved" an Iowa corn crop from destruction by drouth last year, Jacobson submitted this explanation from Lee Fryer, president of Earth Foods Associates, of Silver Spring, Md., a company which provides technical assistance to Sea-Born on making and using blends of seaweed and fish, along with advice on marketing the product:
"By feeding these plants -- gently and effectively through their leaves -- we 'transformed' them. We gave them a bit of food to revitalize their leaves so they could seize a bit of moisture from the air, and then a bit more from the soil. This sustained life and growth for two weeks until the next rainfall. It was not a miracle but just intelligent use of special fertilizers and nature's forces to save a corn crop."
Fryer explains that the new seaweed-fish liquid fertilizer contains "small amounts of everything plants might need to go ahead and make a good crop. The seaweed and fish materials in it provide assortments of all minerals known to be active in life systems on our planet."
Fryer has criticized Iowa State University agronomist Dr. John Hanway who has worked extensively in foliar fertilization in recent years, specifically spraying liquid fertilizer (nitrogen, phosphorous, potassium and sulfur) on soybeans and other crops several times during the growing season. Hanway reported spectacular yield increases in '75 but was unable to duplicate them in '76.
Calling Hanway's foliar fertilizing approach "very cumbersome and unnecessarily expensive for farmers," Fryer cites this explanation of why Iowa State University's liquid fertilizer worked poorly in '76:
"It is an unbalanced, incomplete food for growing crops. Being limited in nitrogen, phosphorous, potassium, and sulfur, and omitting other essential plant foods, this liquid fertilizer can actually shock plants and retard growth. That evidently occurred in some corn and soybean fields in the past year, and drouth aggravated the situation. Plants under stress should not be fed with gross amounts of major foods, but rather mainly with trace minerals and hormones that will help them to cope effectively with lack of moisture."
For 1977, according to Jacobson, using Sea-Born Plus F at the recommended rate will cost $7 per acre for the material, not including application. "We're not claiming it to be a miracle product, or promising fabulous yield increases," he explains. "We simply point out that, at $7 an acre for the material, it only takes about three extra bushels of $6 soybeans to double your investment." A company advertisement says you can increase soybean yield as much as 16%, corn yield by 9% and alfalfa by 16%. If you grow all three crops, Jacobson suggests treating each of them rather than running the test on just one crop.
For more details, contact: FARM SHOW Followup, Vern Jacobson, field sales manager, Sea-Born, Inc., 2000 Rockford Rd., Charles City, Iowa 50616 (ph 515 257-2530).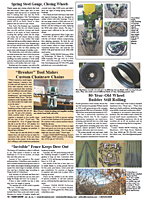 Click here to download page story appeared in.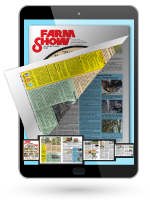 Click here to read entire issue
To read the rest of this story, download this issue below or click
here
to register with your account number.