Automatic Fire Extinguisher
"It pinpoints the location of any fire that develops on your equipment and automatically puts it out before the fire can get out of control. You don't have to do anything," says Neal Hall, Brook Park, Minn., about the new automatic fire extinguishing system that he and Shelby Holen developed.
The patent pending fire extinguishing system is heat-activated and is designed to cover up to 20 different spots on equipment. It can be used on everything from combines, tractors and trucks to clothes dryers, stoves, dishwashers, chimneys, etc.
"It's a failsafe system - all you need is a fire for it to work," says Hall. "So far we've built one small style for appliances such as clothes dryers, etc. The appliance extinguisher could be externally mounted on existing appliances or internally mounted on new appliances. And we have a larger style for combines and tractors, etc."
The farm equipment system makes use of a standard 25-lb. pressurized bottle of dry chemical fire extinguishing agent, which mounts behind the engine compartment on combines. The bottle is connected to a copper line that T's off to run through the engine and combine drive compartments. The line has several 3/8-in. dia. copper-lined caps soldered onto it with a low temperature solder. When a fire starts, the cap melts off and the dry chemical agent discharges out the opening to extinguish the fire. At the same time, a low pressure switch on the system sends a signal to the cab, which turns on a warning light and sounds a buzzer to let you know there has been a fire.
The valve was removed on top of the fire extinguisher and replaced with a new screw-on head to which the copper line and a low pressure switch is attached. A gauge on the head indicates whether the bottle has pressure or not.
"You don't have to be there to pull the fire extinguisher handle. In fact, you don't have to even know there is a fire. And it pinpoints the location of agent so if the engine catches on fire, only that area gets doused. You don't waste any agent going to the hydraulic compartment, belts or anything else," says Hall.
"You can place the caps wherever you think there might be fire potential such as the combine's hydraulic bay, engine, belt drives, etc. You can make the solder cap melt off at different temperatures, anywhere from 100 to 600 degrees. For example, for a hydraulic compartment that runs cool you might make a 250 _ solder. Another compartment that runs warmer might require a 350 _ solder.
"If the bottle doesn't have pressure, a red light and a buzzer will come on in the cab so you know you need to service it."
Hall says he first came up with the idea for use on a clothes dryer. He serves as a volunteer fireman in his community and has learned that a lot of house fires start when the clothes dryer starts on fire. "The dryer is hooked up to a low pressure switch on the extinguisher that automatically shuts off the dryer when a fire develops or when the pressure is low in the bottle. It leaves only a small mess to clean up."
The two men are looking for a company to manufacture and market the systems. "We believe the product could be sold for about $700 for combines and $70 for home appliances," he notes.
Contact: FARM SHOW Followup, Neal Hall, 26985 Beach Rd., Brook Park, Minn. 55007 (ph 320 629-7956; email: dnhall @ecenet.com).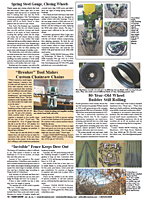 Click here to download page story appeared in.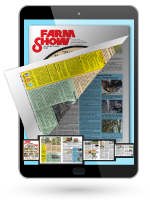 Click here to read entire issue
To read the rest of this story, download this issue below or click
here
to register with your account number.