Do-It Yourself Home-Built Milking Parlors
When Tom Wencl decided to go from tie stalls to a milking parlor for his 68-cow dairy herd, he decided to explore building his own.
While looking at factory-built parlors on other farms, the Blooming Prairie, Minnesota, dairy farmer heard about Vance Haugen, an Extension agent in Crawford County, Wisconsin. "He's helped several people design and build their own parlors," Wencl says. "After talking with him, I knew I could do it myself. He even had plans and helped me put together a parlor that would fit where I wanted it."
Wencl built a double 8 slant-stall parlor. "By drawing up our own plans, we were able to make use of existing milk transport lines and milkers," he says. "We had been milking with five milkers into 2-in. high lines. We moved the high line to the center of the parlor and bought three more milkers. Now we just swing the eight milkers from side to side from the center line."
Once he had his plans together, Wencl ordered steel and began clearing out one end of his old tie-stall barn where the parlor would be built.
With help from his sons, Wencl removed 12 tie stalls - six on either side of the center alley - to make a 28 by 32-ft. parlor area. They also had to remove some of the support posts for the haymow above the parlor. That meant adding steel posts and I-beams for support. They put in two I-beams above the parlor running parallel with the stalls. The I-beams were spaced so the rear panels of the milking stalls could hang from them.
Intent on keeping the dirt work and amount of concrete needed to a minimum, they broke out the concrete in about half of the area intended for the parlor. Then they excavated a 5-ft. wide pit and poured concrete. "We were able to pour one of the cow platforms right over the existing floor," he notes.
As the concrete was poured, the main posts of the parlor were set into it. Then came the task of welding together the side, front and rear panels and mounting them on the posts.
"We've tackled some big projects before, but none quite this big," he says. "It's really not all that complex, though. We had to do a little experimenting to get the angles right for cutting the pipe. Since we were cutting several pieces alike, once we got the angle and length set, we used that as a template to cut more. While one of my sons ran the saw, I welded."
Side panels and gates were made from 2-in. round galvanized steel pipe. The rear panels are made from 2-in. square steel tubing, with a poly shield on the inside. "We ended up making the gates a little heavier than we'd intended, so we had to order more steel before we were through," Wencl says.
About six weeks after they first broke ground - and 15 lbs. of welding rod later - they were ready to use the parlor.
While they've been milking in the parlor for a year and a half now, Wencl sees it as a work in progress. "Eventually, we'll finish the insides, so we can wash equipment in place," he says. He also intends to add cylinders so the front panels can be adjusted hydraulically. "Right now, they're held in place with set screws. We can adjust them, but we can't take the time to do it for every cow."
The finished parlor features heated concrete floors and hydraulically- operated gates. "When we started looking, a basic no-frills double six parlor installed was about $30,000," Wencl says. "In total, we spent around $12,000 for our double eight parlor. We put in a lot of our own labor, but we hired help with the dirt and concrete work. Also, we got a lot of good advice from Vance Haugen and the dealers who sold us supplies."
Haugen has worked with about 75 dairy farmers all over the U.S. who have built or are building their own parlors. Says Haugen: "Anyone with basic farm mechanic skills can build a parlor that will rival any commercially - produced parlor. Remember, you get paid the same for your milk regardless if you have paid $8,000 or $800 per stall for your parlor."
He and Dave Kammel, University of Wisconsin engineer, worked with the University of Wisconsin Dairy Team to put togeth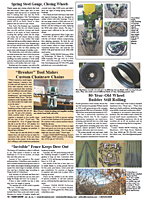 Click here to download page story appeared in.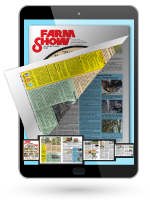 Click here to read entire issue
To read the rest of this story, download this issue below or click
here
to register with your account number.