Grow Your Own Hybrid Seed Corn?
Tired of paying big bucks for hybrid seed corn? If so, maybe you should grow your own.
University of Missouri extension agronomist Leon McIntyre, Linneus, Mo., says you can grow your own hybrids and do it for less.
Before joining the University, McIntyre worked several years for different seed companies in various jobs from research to seed production. He says producing seed corn requires an understanding of basic genetics, but there are no magic tricks involved and, if you plan well, no reason for surprises. "The seed corn companies have turned seed production into such a secretive process that most corn growers have been convinced that producing seed corn is too difficult to do yourself. It does require planning and attention to details, but you don't have to be a geneticist or genetic engineer to grow your own hybrid seed," he insists.
To do it yourself, you need to do everything the seed companies do including selection of inbred parents, properly isolating and managing seed fields, and finally, careful, gentle harvesting and storage of the seed produced.
McIntyre says a good place to learn about corn inbreds available for parent seed is to read an Iowa Agricultural Experiment Station publication called "2000 Iowa Experimental Corn Trials," by A. R. Hallauer, K.R. Lamkey, and P.R.White. You can download an electronic version (in PDF format) at http://corn2.agron.iastate.edu/data.html. Click on "2000 Single Cross Report." Reports dating back to 1996 are available.
"This information will help you decide what hybrid or hybrids will perform best for you," he says.
If you're within driving distance, McIntyre also recommends attending the Central Iowa Field Days, held annually near Ames Iowa. "There you can see first-hand the hybrids and inbred lines available from several foundation seed companies, Iowa State University, the Committee for Agricultural Development (CAD) and the USDA," McIntyre says. (Contact Del Koch, business manager and treasurer for CAD at 515 294-4166 for details.)
Check around for foundation seed companies that will sell seed of corn inbred lines to individuals. You'll probably have to sign a licensing agreement that says you will only use the seed for your own use. And a licensing fee may be required for privately owned inbreds.
"If you look around, you should be able to find inbreds that, when crossed, will make a hybrid with the traits and yield potential you need," he says. "You won't be able to buy inbreds with Roundup Ready, Liberty Link, or Bt genes, but there are some very good public inbreds with high tolerance to corn borer and even to rootworms."
Locating a source or sources of parent lines is just the start.
Here are a few of the things you'll need to consider:
À Fields must be properly isolated so stray pollen doesn't contaminate your seed.
À More tillage may be needed, since inbreds used as parents are normally weak emergers.
À Weed and insect control need to be topnotch.
À You'll need to monitor fields carefully at flowering time, and female rows (the plants from which you'll harvest your seed) must be detasseled.
À Watch for boring and ear-feeding insects. While usually not significant in commercial corn fields, these can destroy a seed crop.
À Harvest and handling of the seed crop needs to be done carefully, although McIntyre says you can probably harvest with a combine if you set it properly and go slow.
À Germination should be good if you've done a good job of harvesting the seed, but a germination test is a good idea so you can make other plans if your home-grown seed doesn't pan out.
If you've done everything right, you'll end up with seed that's as good in quality as any you can buy. McIntyre figures that even if you need extra insecticide for corn borer control and you spend extra on cleaning and germination testing, you'll still have your seed for $35 a bushel or less, and that includes your labor and land costs. If you did your homework and selected the right parents, your hybrid will yield with the best of them, McIntyre believes.
Contact: FAR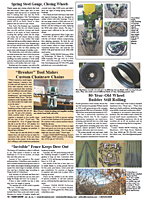 Click here to download page story appeared in.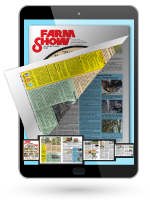 Click here to read entire issue
To read the rest of this story, download this issue below or click
here
to register with your account number.