Baking, Cooking With Home Grown Grains
"We've been doing this for four years and think it's great," says Deanna Larson, Capron, Ill., housewife, who, along with her family at Pine Hill Farm, uses home-grown grains and soybeans for baking and cooking.
"We use a high quality 5/e hp Magic Mill grinder to process our personal-use crops. We not only have saved money, but have become a little more self sufficient, plus have provided our family with better nutrition," says Deanna.
If you'd like to try your hand at cooking and baking with homegrown grains, she offers the following tips:
Select some of your driest, cleanest grains or soybeans during harvest. To clean them, pour the grain back and forth from one clean container to another on a windy day, or in front of a large window fan. For large amounts (over 1,000 lbs.), use a fanning mill, or a rotary drum cleaner with the correct screens.
If moisture content is more than 12%, the grain will have to be dried for safe long-term storage. Drying can be done in a conventional oven or microwave, and at a drying temperature of no more than 120-130?.
Higher temperatures will cut down on the sproutability (germinating) properties. Be sure to cool the grain after drying before you store it.
Salad Sprouts: Put about 1/a cup of grain or soybean seeds into a wide mouth quart jar and cover with warm water. Let soak overnight. Rinse and drain well once or twice a day for the next two to five days. After they have reached the desired length, rinse, drain and store in a closed jar in the refrigerator. When adding them to a casserole or salad, add the sprouts last, or when they can just be heated, so you don't destory the nutritional value you have worked for. Mix different types of sprouts together and use your favorite coleslaw, bean salad or sandwich filling recipe.
Soups: After soaking one cup of home-grown grain overnight like you do to plump beans, add them to simmering 45 min. soups, chili, or in casseroles like you would handle rice or barley. (Field corn should be cracked).
Blender Cereal: At the grocery store, Wheaties or Bran Flakes cost about 80' a lb. You can make your own cereal by using your blender. Coarsely grind 1 cup of wheat at a time. Using a flour sifter, sift out the cracked wheat. Use the finer flour for cakes and cookies. An antique, manual coffee mill or meat grinder, or manual burr mill can also be used, but you might have to run the grains through a second time. Stir one cup cracked wheat into two cups cold, salted (1/4 tsp.) apple juice or water. Cook while stirring for two minutes to boiling. The coarser the wheat, the longer you soak or cook the cereal. For variety, add dried or fresh fruit, or granola. Replace the water with apple juice if your family is used to sweetening their cereal, or for a taste treat.
Breakfast in Bed, or on the Tractor: Fill a thermos container with hot salted (1/a tsp.) apple juice, or salted hot water, and one cup of whole or cracked wheat berries the night before. Mix different grains together, such as adding rolled oats to cracked wheat cereal.
High-Speed Bread Baking: By grinding your own home-grown hard winter or hard spring wheat, you can bake your own homemade bread for about 20e a loaf. A 550 watt Bosch mixer, with an 18-cup capacity bowl and two kneading hooks and a paddle, will mix and knead four loaves of bread in 15 minutes. No floured hands or work area required to do the kneading. Just scoop out four equal amounts of dough from the Bosch food processes unit into four oiled pans and smooth the dough into the corners with your oiled fingers. Let rise for 30 min. and bake 35 to 40 min.
When using your whole grains and soybeans mixed together proportionately in milling and bread baking, you know that you're providing your family with the true "staff of life". Dog and Cat Food: You can make your own dog and cat food by soaking cracked or ground wheat in just plain water. Cook up a stew with vegetables, food peelings and meat scraps, along with used lard or fat drippings.
For more details, including recipes and literature on Magic Mill and Bosch equipment for proce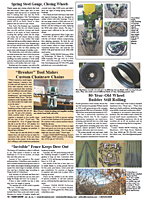 Click here to download page story appeared in.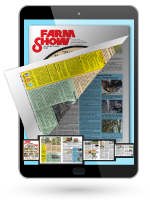 Click here to read entire issue
To read the rest of this story, download this issue below or click
here
to register with your account number.