Homemade Sand Blaster
Randy Althouse, Castalia, Iowa: "Using mostly junk steel, I built my own portable, heavy-duty 20-in. dia. chop saw that's powered by a 5 hp electric motor. The motor belt-drives the blade.
"The chop saw mounts on four wheels and weighs about 300 lbs. It has more power and can cut through bigger material than most commercial models. The machine will cut right through a 10 by 13-in. piece of steel, and I made it big enough that I can use a bigger 26-in. dia. blade if I want. I used 8-in. channel iron to build a pivoting arm that supports the motor and saw arbor. A threaded lever is used to tighten the vice to hold material in place. Pulling down on another lever brings the blade into the material for cutting. I built it so that the 3-ft. sq. work table is a little taller than my shop workbenches. As a result, I can cut a 20-ft. long piece and keep the material above the work bench.
"I already had the motor and control box and bought a new blade. My total cost was about $100, whereas most commercial models sell for about $300.
"I also used junk steel and a length of heavy duty well pipe to build my own two-wheeled, pressurized sand blaster. I closed up each end of the pipe. Then I welded an adapter onto the top end of the pipe and welded a valve onto the side. I also welded on an air hose hookup at the bottom of the pipe, where the sand comes out. A 5-ft. long steel rod equipped with a ceramic nozzle hooks up to the air hose. A black toilet paper canister hooks up to the hose and serves as a filter. It absorbs any moisture in the air hose so it won't plug up with sand.
"To operate the sandblaster I first remove a cap at the top of the pipe and use a funnel to pour sand into the opening. Then I hook up my air compressor hose to an in-line valve on the canister that's used to turn the sandblaster on. The 5-ft. wand is long enough to keep me from getting pelted with sand.
"I built it five years ago and have already run four or five tons of sand through it. It holds about twice as much sand as most commercial models so I don't have to always stop and refill. I can go for about a half hour before it runs out of sand. It cost about $10 to build whereas commercial models sell for $200 or more."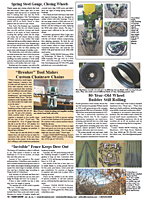 Click here to download page story appeared in.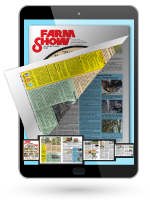 Click here to read entire issue
To read the rest of this story, download this issue below or click
here
to register with your account number.