Humongous Rock Moved From Field To Farmyard
When Robert Slayton, Casey, Iowa, went looking for a big rock to accent the landscaping around his house, he remembered the big one in a field he and his father, Donald, had been renting from a neighbor.
"For as long as we've rented the land, we've had to farm carefully over or around that rock," Robert says.
A lot of people were familiar with the rock. A one-room country school once sat just down the hill from it, so local children have played on it for a hundred years or more. The rock, which appears to be granite, was probably transported to the area from Minnesota or Canada on a sheet of glacial ice.
Since only a few square feet of the top were visible, the Slaytons had no idea how big the rock was, but they figured they could dig it up and set it in place in a day or so.
Their neighbor told them they could have the rock if they dug it out. In the early winter of 1998, Donald started moving soil from around it with his D-6 Caterpillar. The more he dug, the more rock he found. He dug for two days with the D-6 without completely exposing the rock. After that, a commercial excavator was hired to finish the job.
When they finally got it uncovered they discovered their "landscape rock" measured about 14 ft. high. By some estimates, it weighs 250 to 300 tons.
"We tried to move it by rolling it, but we just couldn't get it to go over," Robert says. Pushing with their D-6 along with two bigger borrowed Caterpillars, and pulling with a couple of Steigers, they managed to get the rock to the edge of the field in about two weeks. "At first, on a good day, we'd move it about three inches," Robert notes.
From the edge of the field, they still had to go another 1 1/2 miles down a gravel road and over two bridges to get to the farmstead where they hoped to display the rock.
By this time, it was the spring of 1999 and farm work took priority over moving the rock. So it laid there all summer, at the edge of the field, where neighbors could see it and ask regularly about their intentions and question their sanity, too. So many people said they couldn't move it that the Slaytons became determined to prove them wrong.
When the crops were off last fall, they again turned their attention to the rock. They built a skid of 1 1/2-in. thick plate steel that measured about 8 ft. wide by 25 ft. long, figuring if they pushed the rock to the skid, they'd be able to slide it. The weight of the rock, however, bent the skid so that it dug into the ground like a plow when they tried to pull it. With an identical sheet of steel, they doubled the thickness of the skid. This time, it held the rock without bowing.
It took a couple of Caterpillars - a borrowed D-8 and their own D-6 - to push the rock onto the skid.
They then tried several different ways to move the skid with the rock in place, but without much luck. Chains and cables were no match for the big rock.
What finally worked was a 200-ft. long ship's anchor chain, with links 2 in. thick and 1 ft. long, borrowed from neighbor Dick Hunter. He had also used it to move a rock at one time.
With at least 3 in. of frost in the ground and a fresh 2 in. of snow on the gravel road, December 18, 1999, seemed like the ideal day to move the rock. (That just happened to be the day the Slaytons planned to celebrate Christmas with extended family, and Robert says in retrospect, they might have planned a little better.)
They'd prepared for this day by putting in temporary culverts and fills over the two creeks they had to cross, so they could avoid the bridges. "We knew we couldn't put all those tractors and the rock across them," Robert tells.
With the anchor chain hooked to the skid, they put together a team of "horses" big enough to get the job done. Directly in front of the rock hooked together in single file was a D-8, a D-7, four older model Steiger 4x4s, and in the lead a brand new Deere 9200 4x4, loaned to them by their dealer Faga Jorgenson. With those seven tractors pulling (close to 3,000 hp in all) and the D-6 and D-8 pushing from behind, they headed down the road - i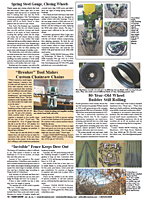 Click here to download page story appeared in.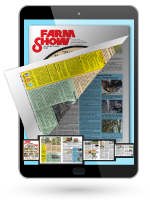 Click here to read entire issue
To read the rest of this story, download this issue below or click
here
to register with your account number.