Self-Propelled,4-WD High-Cab Sprayer
"The cab sits 12 ft. off the ground so I'm always breathing clean air above the chemicals. I also have a terrific view," says Dennis Zackrisson, Tribune, Sask., about the self-propelled 4-WD "high-cab" sprayer that he built out of a 4-WD dump truck fitted with a Deutz tractor cab.
The sprayer is powered by the truck's 210 hp, 6-cyl. Rolls Royce diesel engine and rides on big 16.9 by 26 diamond tread tires off an old combine. On back is an 800-gal. stainless steel tank and an 82-ft. Blumhardt boom.
"I built it because I wanted the æhigh-cab' advantages of a new commercial self-propelled sprayer without having to spend the money for one," says Zackrisson. "It looks similar to Deere's new self-propelled sprayer which sells for more than $100,000. I spent only about $10,500."
Zackrisson bought the early 1950's, 7-ton dump truck from a neighbor for $1,500.
In the early 1960's the original owner had equipped it with a V-plow on front and re-powered it with a Rolls Royce 6-cyl. diesel engine. He removed the cab and dump box, keeping the engine, 5-speed transmission, frame, and running gear.
He bought a used Deutz tractor cab at a junkyard for $1,000. He mounted it on an elevated frame that he bolted to the truck.
s He then hooked the gauges in the cab up to the truck.
To hook up the clutch he simply ran a cable from the tractor clutch pedal to the truck clutch. He wanted to use the truck's air brakes so he threw away the tractor brake pedal, then remounted the truck brake pedal in the cab and ran an air hose from it to the truck brakes. To hook up the throttle he used an emergency brake cable off a Volkswagen car and ran it from the tractor throttle to the truck's fuel injection pump. "To accelerate I can use either the tractor's original foot-operated throttle pedal or hand throttle," says Zackrisson.
He mounted the tractor's power steering cylinder on one side of the truck chassis and hooked it up to the tractor's power steering system. Hydraulic pressure is provided by a crankshaft-mounted pump. The cab still has the original air conditioner.
To mount the spray boom he bolted a 3-in. angle iron frame on back of the truck chassis and bolted the boom onto the frame. The boom is normally kept about 4 1/2 ft. off the ground but can be manually raised or lowered via a series of holes in the frame.
"I used it last spring and summer to spray weeds in my wheat and in the fall to desiccate the crop so that it would mature earlier. It worked great," says Zackrisson. "I plan to use it this spring to apply burndown chemicals. It didn't take long to build. My son Brennan helped me build it. We started work a year ago in March and by July we had already sprayed 4,000 acres. We also used it to custom spray 1,000 acres. I had been using a 130-ft. pull-type sprayer that I pulled with a big tractor. I also used a Melroe Spray Coupe. However, I like this sprayer because the cab sits higher and I can see better. The truck's 5-speed Fuller transmission and 2-speed gearbox allows me to go 3 to 20 mph. Going 10 mph and applying 5 gallons per acre I can spray 160 acres before I have to refill. The Rolls Royce engine uses only about 7 1/2 gallons of fuel per fill.
"The engine runs like a top and has a lot of torque. It's made in England but getting parts for it shouldn't be a problem because every part is numbered. Also, I bought the truck with a spare engine which I can use for parts.
"I paid $3,000 for the boom, $1,000 for the cab, and $500 for the tank. I also bought a new Honda high pressure sprayer pump.
"To provide access to the tank I mounted a pair of ladders salvaged from old International 151 combines on each side, between the cab and tank. I use the tractor's original ladder to get into the cab. I plan to build a catwalk which will allow me to walk directly from the cab back to the tank. I also plan to add fenders, an updated chemical rinsing and mixing system, an air ride suspension system for the front axle, hydraulic boom lifts, charcoal air filters for the cab, larger diameter but narrower tires, and a front-mounted light bar."
To mou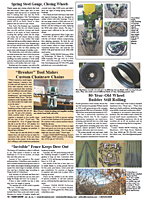 Click here to download page story appeared in.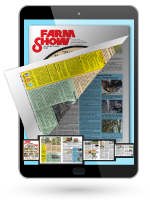 Click here to read entire issue
To read the rest of this story, download this issue below or click
here
to register with your account number.