Pull along mower doesn't need a driver
Frank Andrew uses a small riding lawn mower to automatically mow his half-mile long, 36 ft. wide airplane runway while he takes a nap, works in the garden or goes to town for a cup of coffee.
Andrew, a retired University of Illinois agricultural engineer, flies airplanes from his own runway. Keeping the long grassy strip mowed became a big chore, so he decided he had to find an easier way to mow it.
A bicycle wheel mounts 3 ft. ahead of the mower. A side arm runs from the wheel to a 9-in. dia. metal reel drum that lays on the ground. The mower circles around the drum as it mows, turning the metal drum which is connected to a half mile of electric fence wire running the length of the runway. Each time the mower completes a trip around the drum, a length of wire is wound up, pulling the whole system forward.
"The mathematical term for the path cut by the mower is a `prolate helicoid,"' says Andrew. "The circumference of the drum equals the width of the mower, so it moves down the runway for a new swath each time the mower makes a complete circle (a circle whose diameter is the width of the runway). It requires very little attention, except putting gas in the small engine about every two hours. It takes about 6 hours to mow the entire runway. I had been using a tractor-drawn mower to cut most of the runway and a lawn mower only to cut a narrow strip the length of the runway for the airplane's nose wheel. But even that took a couple of hours to do.
"Neighbors don't need to worry about the mower getting away. If the guide wire should break, the mower will simply circle around and around in one spot."
To make the mower more visible from his house, as well as to aircraft, Andrew tied red flags to a 10-ft. tall fishing pole that he mounted on the rear. He also installed a rotating anti-collision beacon on the hood that makes the mower visible both day and night.
The end of the wire is anchored by an iron rod pushed into the ground at the end of the runway. "It doesn't take much to hold the wire in place because the tractor doesn't pull against anything," says Andrew. "The only resistance is the weight of the side arm assembly, and the drum and wire sliding along the ground."
Andrew says he can remove the bicycle wheel and side arm assembly from the mower in about 10 seconds to drive the mower manually.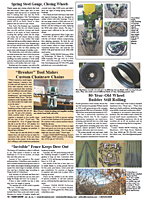 Click here to download page story appeared in.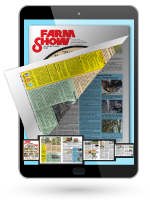 Click here to read entire issue
To read the rest of this story, download this issue below or click
here
to register with your account number.