Home-Made Pickup Winch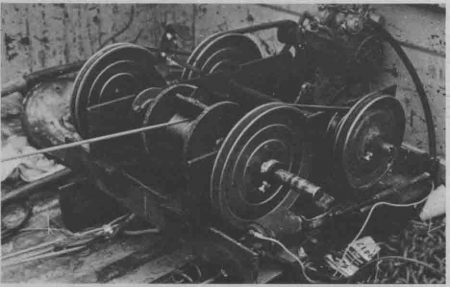 "I was tired of getting out of my pickup in the cold winds of winter to ratchet round bales onto the truck with a come-along. I checked electric winches but, at the time, they weren't built for everyday use so I decided to make my own truck winch," says Kansas farmer Darrell Dowell, of Clyde.
Dowell started with an electric platform lift from an old Baldwin combine. He mounted the motor and pulleys toward the front of the truck bed on an angle iron framework bolted to the truck frame.
The bale lift is a 3-pt. type for tractors that hinges off the back of the truck. It has two teeth that slide under the bale rather than stabbing it. For hauling bales, Dowell says he picks the bale up to about a 45 degree angle so it's about 8 in. off the ground. For road travel, he lifts the bale and winch to a 90 degree angle.
Power for the motor is from four electric solenoids which are protected from the elements under a wooden box. Controls for the winch are in the cab. The 30-ft. long, 5/16-in. cable goes through a 4-part block and tackle.