Twin Rows For Corn-Soybeans Are Back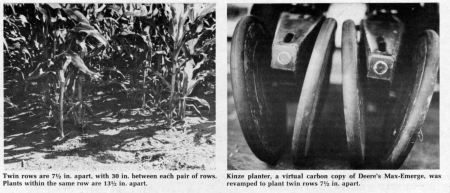 The idea of planting corn, soybeans and other row crops in twin rows, which has been tried without much success since the late 40's, is making a comeback, thanks to Minnesota farmers Richard Olson and William Beckman, both of Nerstrand, who have teamed up with Kinze Mfg., of Williamsburg, Iowa, to develop a "new and different" twin row planter.
"The real advantage of twin rows is the ability to produce higher yields. In corn, you can use normal corn heads and only have to make slight modifications on spraying and cultivating equipment," says Olson, noting that inability of previous commercial twin row planters to precisely place the seed led to poor acceptance of the practice. "The new-style twin row planter we've developed in conjunction with Kinze Mfg. provides the precision performance which the twin row concept has needed all along," Olson told FARM SHOW.
He and Beckman have been working on the idea for the past four years. They began experimenting with a 12 row Max-Emerge planter by first planting in regular 30-in. rows, then doubling back to plant a "twin" row 6 in. from the original row. The difficulty of maintaining straight rows, and getting proper seed placement between rows, led them to try the veteran Burch twin row planter which has been on the market for many years. Poor depth control and seed placement prompted them to try still another approach last year. They took a Kinze planter unit, which is a virtual carbon copy of Deere's Max-Emerge, cut it apart and then re-welded it, making it into a two row "twin row" planter.
The prototype led Olson and Beckman to have Kinze Mfg., Williamsburg, Iowa, build two two-row twin row units, and one six-row twin row planter. Kinze will be producing the twin row planters in the future.
The modified planter plants corn in twin rows spaced 7 1/2 in. apart. At 30,000 plant population, the seeds are 9.9 in. apart on the diagonal between the twin rows. Seeds within the same row are 13 1/2 in. apart. The rows are 30 in. center to center, or 23 in. between outside rows. The drive shaft on the Kinze planter is set so the finger pickups are 15 degrees apart, thus placing the seeds in a triangular pattern at any plant population.
Last spring, Tom Nelson, Cannon Falls, Minn., used the 6 row planter to plant 440 acres of his corn. "I feel many corn hybrids have a lot of unused potential that's limited only by plant population rates. Twin rows will give these varieties a chance to perform. I see no reason why we shouldn't get 200 bu. yields out of these fields," he told FARM SHOW.
Nelson is testing 12 different varieties on his farm at population rates ranging from 34,000 to 41,000 plants per acre. At the 41,000 rate, the seeds are 8 1/2 in. apart on the diagonal.
Special treatment include doubling the pesticide rate when planting, and foliar feeding some of the corn. Nelson also modified his 16 row sprayer by moving the nozzles closer together and adding 2 more nozzles.
Iowa farmer William Hernik, of Belle Plaine, has had ten year's experience with twin rows. From 1970 to 1979, he used a 4-row Burch planter to plant most of his corn acreage in twin rows. "Basically, I was happy with the twin row concept and the planter. I figure yields increased about 10%, planting at 27,000 kernels per acre, over conventional single rows. I'd still be using twin rows today if it hadn't become so difficult to get parts for the planter," Hernik told FARM SHOW.
Prototype Kinze twin row planters have been used to plant sunflower seeds, cotton, snap beans and soy-beans, as well as corn. The soybeans were planted at 90,000 plants per acre. The twin rows were 7 1/2 in. apart like in corn, but 23 in. apart center to center with the seeds placed 6.1 in. apart within the same row.
Critics of the twin row planter system say lodging problems are the limiting factor. Olson feels this is an inaccurate criticism, citing "good stands" in his and Nelson's fields.
Indeed, when FARM SHOW toured Nelson's farm, the twin rows of corn looked good. It stood about 7 1/2 ft. tall, had an excellent stand and the ears had a good start.
The real test of twin row planting will come this fall with the harvest and yield results.