Rust No More: He Carpeted His Car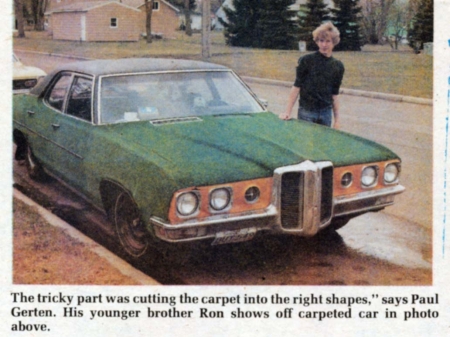 Paul Gerten wasn't about to give up without a fight when he found rust on his 1970 Pontiac Catalina. So, he went out, bought a roll of artificial turf, and proceeded to carpet the entire exterior of his rust-damaged car.
"The tricky part was cutting the carpet to fit," says Paul, a 1982 Farmington, Minn., high school graduate. "The worst part was the glue. It stuck to everything."
To cut the pieces to size, Paul first taped clear poly to the car and cut it for patterns. The cut-up carpet was fastened to the car with waterproof tile cement -- he used two gallons -- and screwed down tightly around the edges. After a couple weeks of night work, he finally had it covered. The final touch was to refasten bumper guards and model insignias.

After several months of use, Paul reports the carpet job has held up well without fading or noticeable wear. He washes it with a car wash high-pressure washer. "It gets a little heavy when wet. Otherwise, the carpet hasn't adversely affected mileage or performance in any way. The project turned out better than I ever thought it would," he says. His carpeted Catalina, which has been driven close to 100,000 miles, is "the talk of the town". And, because there's nothing quite like it on the road, virtually every motorist he meets gives his eye-catching Catalina a second look.