Water Buffalo Milk In Big Demand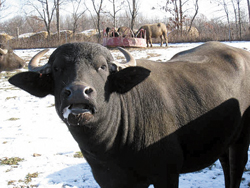 Dubi Ayalon isn't your average Wisconsin dairyman, and his cows are about as far as you can get from Holsteins. The former Israeli special forces soldier and school teacher has a water buffalo herd that he'll milk for the first time when they calve later this spring. Water buffalo milk is in big demand for making authentic Italian-style mozzarella cheese.
"Restaurants in Chicago importing it now are calling me to ask when we will have cheese available," he says. "The price for the milk is high, but the money for the cheese is even higher." Ayalon didn't know anything about raising cows, much less water buffalo, when he started. He doesn't know anything about making cheese either, but he is ready to learn.
"At first I'll sell the milk to Cedar Grove Cheese, and they'll make the cheese. I'll work for the cheese maker to learn how to make it and then make my own cheese," he says.
Right now all his herd is making is manure. During the winter, he feeds each animal about 4 1/2 lbs. of grain a day. In the summer, when they're on pasture, grain drops back to a pound a day. However, they eat lots of hay.
Ayalon hopes to have 10 cows in production this summer, but even then he won't have milk to sell immediately. He plans to let the calves nurse for several months to get them off to a good start, as the Italians do. Then he'll begin milking. Daily production can vary from 10 to 50 lbs. per animal.
"If I'm a genius at taking care of them, I may get 25 lbs. per day. If I'm okay, I may get 15 lbs. per day," he says.
Water buffalo meat is also in strong demand. Like the milk, the meat is very low in cholesterol. While he expects to sell males, he has no plan to sell females until he reaches his goal.
One difficulty has been to find equipment to handle the animals. He has found a man who will make special headlocks for him, as standard stanchions don't work. And the animal's legs have to be chained in place during milking, he says. He was concerned about finding a milking machine. While at the Wisconsin Dairy Expo, he spoke with a company that ships equipment to Southeast Asia for water buffalo milking.
Ayalon recognizes that his is a long-term project and one he has to learn as he goes. His goal is to get to 30 milking animals. He has no desire to go above that number. He sees water buffalo as a good niche for a small farmer.
"In my opinion, a lot of farmers who want to be small need to be unique," says Ayalon. "If a farmer really wants to get rich, he should milk camels. In Israel camel milk is in very high demand. It's thought to be very healthy for you. There's even an old story that it works like Viagra. I would milk them, but I broke my back riding one, so I don't like them."