Squeezer Compacts Two Bales Into One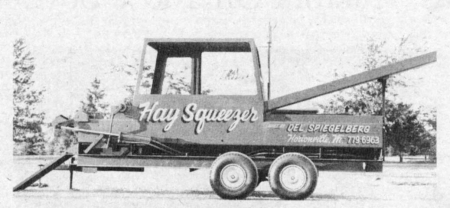 "It offers a tremendous cost advantage to anyone who transports hay," says Del Spiegelberg, Hortonville, Wis., hay dealer and inventor of the Hay Squeezer, said to be the first and only portable bale compactor on the market. It compacts 2 conventional hay bales into one at the rate of 180 compacted bales per hour. A larger model under development will compact 240 bales per hour (8 conventional bales in, and 4 compacted out, per minute).
The Hay Squeezer automatically ties each compacted bale with plastic twine. It's powered by a 70 hp engine and generally requires 2 persons to feed bales in, 2 to stack and 1 person to operate controls inside the cab. Two conventional size bales, weighing 50 to 60 lbs., are pressed into a single compacted bale which has the same dimensions as a standard bale except that it weighs twice as much (100 to 120 lbs.), allowing trucks or trailers to carry heavy pay loads and thus reduce transportation costs.
"The machine makes a perfect bale every time. It has a gentle action which causes very little leaf loss, thus maintaining quality," says Spiegelberg, who would like to compare notes with interested manufacturers. If bales to be compacted are tied with wire, the wire is removed first. If tied with twine, the twine is left intact. Attempts to make compacted bales right in the field, thus eliminating the need for a second rebaling operation, have generally been unsuccessful. One reason is that most hay generally has to go through a 3 to 4 week curing before it can be squeezed together into a compacted bale.