Breakthrough Furnace Burns Anything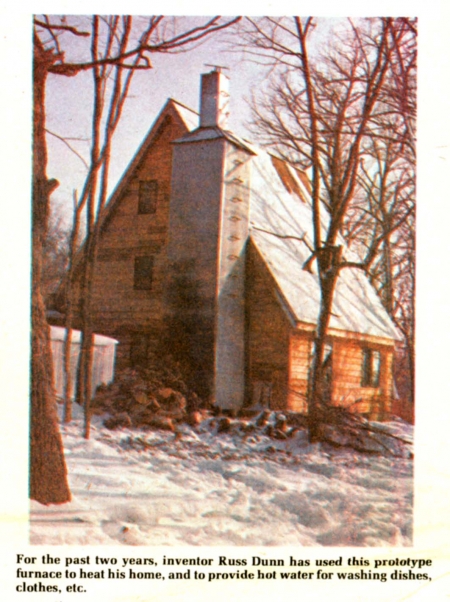 You've never seen anything like it -- a "burn anything" furnace that promises to be one of the biggest breakthroughs ever in beating the energy crisis.
Unlike virtually all other home heating systems, the revolutionary Dunn Furnace, named after its inventor Russ Dunn, Pierce County, Wis., goes outside rather than inside the home. Completely self-contained, it's heavily insulated and measures 5 ft. sq. and 12 ft. high, plus whatever length chimney stack is needed to extend above the roof of the home (or other farm building) being heated by the unit. Because it goes outside, it readily adapts to existing farm homes, livestock barns, workshops or whatever.
Here is the key feature that puts the exclusive Dunn Furnace in a class by itself: It burns with the complete efficiency of an incinerator and only has to be fired once every three to four days. What's more, it turns virtually anything that will burn -- including old tires, cobs, corn stalks, straw, wood, weeds, leaves, cardboard, or waste crankcase oil -- into enough "free" heat to heat most any 3 or 4 bedroom farm home, plus provide all the hot water needed for household use.
"We feel this first of its kind furnace is at least four times more efficient than conventional gas, oil, or wood burning home furnaces," says Dave Thomas, sales manager for a new corporation that has been established to manufacture and market the Dunn Furnace. "No matter how efficient they are, 70 to 80% of the heat produced by most conventional furnaces is lost through the chimney. We feel this furnace, on the other hand, looses no more than 20 to 30% of the heat it produces. For farmers and ranchers, who have good access to weeds, straw, stalks and other low-cost residues, it offers tremendous energy-saving opportunities."
Here, according to Thomas, is how it works:
The ground-level firing chamber is 4 ft. deep and 2 ft. square. Directly above the chamber is a heat-storage bank which measures 5 ft. square and 12 ft. high. It's made up of 4-in. dia vertical pipes and a series of baffles, all of which is surrounded by a solid bank of pea gravel measuring 5 ft. square and 12 ft. high.
To fire up, the chamber is filled with wood, cardboard, cobs, or anything else that will burn. Burning with the intensity of a blast furnace, the chamber quickly fires up to an intense heat of about 1,200 degrees. When an outside pyrometer shows air temperature inside the heat bank is at 600 degrees, the entire furnace is manually closed down tight to "trap" or "can" heat now stored in the 12-ft. high bank of pea gravel. The furnace isn't fired again until 3 or 4 days later when, according to the outside pyrometer, inside temperature of the heat bank has dropped to about 250 degrees. At that point, the draft and damper are again opened and the furnace fired up to bring air temperature in the heat bank back up to about 600 degrees. Getting the temperature back up to 600 degrees every third or fourth day generally takes two loadings of fuel into the chamber, and about 3 or 4 hours of intense burning before everything is closed down to let the fire practically die out while the new supply of "canned" heat provides another 3 to 4 days supply of heat.
A single fan (600 cfm) located in the basement of the home pulls warm air from the outside furnace into the home, and at the same time pulls cold air from the home and pushes it through the heat bank where it's heated up and recirculated.
Because of the speed and intensity with which it burns, and the fact that it burns everything, the system is actually a bio-mass furnace. It acts as an incinerator in that it reduces virtually anything that will burn to a powdery ash. Ashes drop into a clean-out box which is simply pulled out and emptied once every 2 or 3 weeks, depending on what is being burned.
"We'll be encouraging new owners to burn their garbage in the furnace. A hog producer can even incinerate dead animals in the firing chamber. It gets that hot inside," says Thomas. "We foresee farmers and ranchers baling up dry leaves, weeds, straw, corn stalks and other residues to provide enough low cost fuel for heating their homes, livestock barns -- and possibly even drying their crops, although we haven't explored this application as yet."
The first seven production models were rolling off the assembly line as this issue of FARM SHOW went to press. One of those units was installed just two weeks ago in a Southern Minnesota hog farrowing barn.
It's expected that full production will be underway this spring, and that production models will be readily available to farmers and ranchers for the 1980-81 heating season.
Because it's a "burn anything" bio-mass system, as opposed to wood burning furnaces which burn only wood, it should qualify for special state and federal energy credits, Thomas feels.
He notes that, because it installs outside the home, the furnace offers the following advantages: Doesn't take up space, eliminates having to bring fuel of any kind into the home, and it doesn't draw oxygen or moisture from air inside the home, as do conventional furnaces. Consequently, it provides certain safety and possibly, health advantages.
Heat generated by the outside furnace can be easily siphoned off to provide 80 to 00 gal. or more of thermostatically controlled (at 180 degrees, or hotter if preferred) hot water for use inside the home.
Except for possibly having to change grates every 10 years, the Dunn Furnace is virtually maintenance free, as well as trouble free, according to Thomas.
"It does have some limitations insofar as it isn't fully automatic," he points out. "For example, if the family was going to be gone for say 2 weeks in the middle of winter, they would have to have someone come in to manually fire up and close down the furnace every third to fifth day. Or, they could let a backup conventional oil or gas furnace or heater take over until they return. The point is that the Dunn Furnace does require some manual management. We think most farmers and ranchers will gladly provide this small amount of management in exchange for the vast amount of virtually free heat they can get from a new Dunn Furnace fueled with weeds, leaves, straw, salvage wood, straw, corn stalks and a vast amount of other salvageable, combustible material."