Solar Drying Made Simple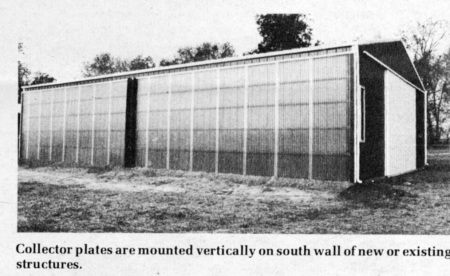 "The unique thing about our Iron Horse solar-drying system is its simplicity," says Jack Hufford, manufacturer. "Most other solar systems on the market are too complicated and too expensive. We think our system can do the job as well or better for less cost. When grain is removed, the drying system is easily removed to make room for machinery or other storage."
In 1978, the first new Iron Horse grain storage building adapted for solar drying was erected in Ohio near the company's headquarters at Circleville and used to dry about 13,500 bushels of corn.

Corn was placed in the building at approximately 27% moisture and, within two weeks, moisture content was down to 17-18%. Through the rest of the fall and winter, fans were operated for about two hours each week to aerate the corn. When the crop was removed in the spring of 1979, average moisture content was around 15%, with corn near the bottom testing 14%.
Hufford notes that the collector wall has a layer of insulation on the inside. Then, there's a prepainted black collector plate (made of metal siding) suspended between the insulation and the translucent fiberglass cover on the outside.
Aerovent dryer fans (12,000 cfm each) move heated air from the collector to a 30 by 48-in. plywood manifold along one side of the building. Perforated plastic field drain tile (4-in. dia.) is attached to the manifold and spaced 6 in. apart under the grain. This distributes air quickly through the grain, which is not piled as deeply in this type of storage as it commonly would be in circular bins.
"Even on cloudy days, temperature of air passing through the collector will raise one or two degrees," says Hufford. "But at noon on sunny days, temperature of heated air is often 20 degrees above ambient temperature, which is higher than the 10-15 degrees temperature rise desired for low temperature drying.
Temperature is controlled by opening or closing "mixing doors" to permit outside unheated air to be drawn into the manifold, thus lowering temperature of air blown into the grain.
Auxiliary drying heat can be added, if desired, but Hufford doesn't believe it will be necessary for most installations. "The weather after we filled the bin in 1978 was about as bad as any season you could imagine, and drying time and grain quality were both quite satisfactory," he concludes.
Although designed for Iron Horse buildings, the Iron Horse solar collector will adapt to other buildings.