Farmall Fitted With Loader, Power Steering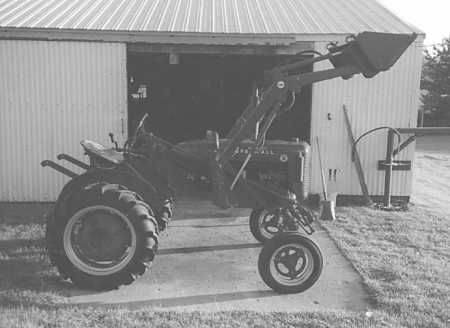 A Michigan farmer who mounted a front-end loader on his Farmall tractor and also added power steering to the tractor says it works so well "You'd think it came from the factory this way".
Roger Sutton, of Fostoria, made the modifications to his 1948 Farmall Super A.
"The loader was made by Ark Mfg. but I don't know what kind of tractor it had been on. I made steel brackets that brace the sides of the loader to the front and rear axles. I was able to use the tractor's original hydraulic to operate the loader. It didn't have a bucket and I couldn't find one that fit so I made my own using a 4 by 8-ft., 1/ 8 in. thick steel plate. The bucket can be raised about 9 ft. high.
"The loader made it harder to turn so I decided to add power steering. I salvaged the control valve and cylinder off a 1976 Ford Granada car and the power steering pump off a 1989 Pontiac Grand Am. I hooked the control valve up to the tractor's steering arm. I attached one end of the cylinder to the steering arm and the other end to the front axle. I had to replace the pump's original pulley with a smaller one that would allow the pump to fit under the tractor hood. The smaller pulley causes the pump to run a little faster but it isn't a problem.
"The entire system works better than I ever thought it would. It takes only about 5 minutes to unbolt the loader."