"No Filter" Dust Mask Lasts Forever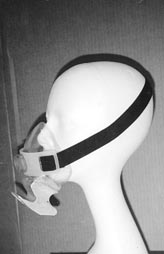 Alan Kennedy set out to design a mask that would help his youngest daughter breathe comfortably during her frigid Nordic ski races.
The mask did what he wanted but he soon learned it had another purpose: It works great as a dust mask even though it has no filter element to be replaced. It not only warms cold air before it enters the lungs, but collects air-borne particles such as soil, grain dust, ash, pollen and molds as well.
It consists of a series of thin aluminum plates, 1 3/8 in. wide by 3 3/4 in. long, that are arranged in an S-shape cell below the chin and leading to the mouth. The plates provide a total of 50 sq. in. of collection surface to trap dirt, dust, ash, pollen and molds. The aluminum cell attaches to a standard plastic face mask, like those used to administer oxygen.
"Basically, the design mimics Mother Nature," says Kennedy. "Nasal passages make a similar 180 degree turns before going into the lungs, too, and there are hairs that collect dust particles."
Kennedy first tested his mask for cold weather effectiveness and found that at 25 degrees below zero F the lowest temperature inside the mask was 40 degrees above zero F.
Soon after he discovered a 6-in. layer of mold in the top of one of his grain bins, he decided to see if the mask would protect him.
"I thought the shape of the mask might trap dust so I tried it out," he says. "I climbed into the bin and shoveled for about 10 minutes, anticipating the bitter taste you usually experience when you inhale moldy grain dust. I took a break outside, blew my nose and could not detect any dust. I worked for an-other 1 3/4 hours and when I went into the house, I noticed my overalls had a coating of gray green mold on them. I removed the cell from the mask and ran a cup of hot water through it into a cup. I was astonished at the amount of dirty greenish sludge that washed out, while I had absolutely no ill effects or symptoms normally associated with handling dusty grain without a mask."
Since then, about 10 other farmers have tried the mask with equally impressive results, but there have been no scientific or lab tests on it, Kennedy says.
"However, my guesstimate is that it traps at least 98 percent of airborne solids," he says. Kennedy would like to find a manufacturer to bring his mask to market.