Pickup Bale Forks Also Unroll Bales, Split Wood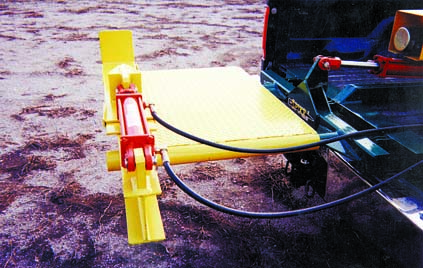 After you're done hauling bales with these pickup-mounted bale forks, you can use them to unroll bales, operate a lift platform, or even split wood.
The basic bale mover consists of a pair of forks that mount on a steel frame and are raised or lowered by a hydraulic cylinder. The cylinder is operated by a 12-volt hydraulic power unit that mounts in the pickup bed and is controlled by a hand-held remote.
An optional platform slides over the forks and has a 2,500-lb. lift capacity. It can handle a big square bale or load an ATV or small tractor. The bed can be lowered at an angle all the way to the ground.
An optional log splitter also slides on over the bale forks as does a bale unroller attachment.
"It's the most versatile bale hauler on the market," says Jeremy Miller, Oklahoma City, Okla. "The base unit comes with an adjustable length gooseneck that's designed to fit over any ball. The gooseneck's length can be adjusted to fit short or long bed pickups."