"Made It Myself" Utility Tractor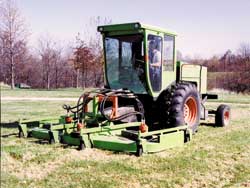 When Bob Howard, Patterson, Ill., needed a utility tractor for mowing, tilling and snowblowing, he didn't want to fork out the money for a commerical-built unit. Instead, he decided to build it himself.
He put together a collection of salvaged parts and built everything else himself.
The big wheels, hydrostatic drive, and rear steering axle came off a salvaged Gleaner F combine. The engine is a V-6 305 out of a GMC truck, with an attached manual transmission.
There are two separate hydraulic systems. One pump is driven off the front of the engine and drives the hydrostatic transmission. It also takes care of steering, and raising and lowering the mower deck or snowblower.
The 5-speed stick transmission at the rear of the engine powers the second hydraulic system, which drives the mower, tiller and snowplow, all of which mount on front of the machine.
Because a lot of hydraulic fluid is used, Howard built a 45-gal. cooling tank that includes a battery of four suction filters.
In designing a quick hitch for the front of the machine, Howard wanted more rigidity than he would get with conventional 3-pt. lift arms. So he built a lift "box" onto which mounts the quick hitch. The rigid box lifts 54 in. The mower, tiller and snowblower fit the quick hitch.
To follow rough ground, the mower deck is fitted with a ball socket hitch point and a pair of tie rod struts. This allows the center section of the home-built 3-section mower to tilt back and forth as needed.