Do-It-Yourself Wood Furnace Kit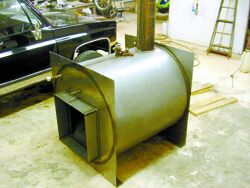 Looking for an outdoor wood furnace, but reluctant to spend the money?
If you have the skills and tools to weld plate steel, Mark Nelis, Luxemburg, Wisconsin, may have your answer.
Nelis works in a custom fabrication shop and recently built his own wood furnace. He figures what's keeping a lot of people from making their own is cutting out the parts. "If they could buy the parts already cut, I think a lot of people would make their own," he says. So he's getting ready to offer a kit for sale.
While he's just getting started, he's planning to have kits in three different sizes, with each kit shipping on a standard 4 by 4-ft. pallet. "That will make shipping easier," he notes.
If you need a larger or smaller furnace, he'll calculate the size you need for your house or shop and then cut out all the pieces and ship direct to you.
All parts are laser cut and each kit comes with complete assembly instructions. While he made his stove of regular plate steel, he figures stainless steel would be better, so he'll offer either regular or stainless kits. "I think I can keep the price for a medium sized stainless steel stove kit pretty low," he adds. "They buyer would need to add a boiler or air to air heat exchanger and fans."