---
Check out our FREE Classified Ad sites!
No Dig, No Hassle Pvc Garden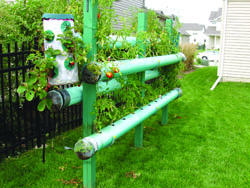 When Major C.T. Davis decided to plant a garden, he mounted pvc pipes on posts and filled them with dirt.
"I didn't want to tear up the lawn," explains Davis. "It works great, and I don't have any problems with rabbits or other pest animals."
Davis set two 4 by 4-in. treated posts in concrete for vertical support for two 6-in. pvc pipes. He drilled 2-in. diameter holes at 1-ft. intervals and filled the pipe with Miracle Grow potting soil. He then planted a seeding in each hole and watered. He also hung grow-bags for strawberries and tomatoes from the tops of the support posts.
"I tied support poles for the plants to the pvc pipes using weed eater cord," says Davis.
Now in its second year, Davis says the system is ideal for tomatoes, peppers and other non deep-root crops. It's also very stable. "We had 70 mph winds this spring that broke off a few plants, but they didn't bother the pipes at all," he says.
He says his plants start producing a crop earlier than plants in t he ground and continue producing later into the fall.
"I am considering taking them into the basement this fall and using my grow lights on them," he says. "If it works, I could start new plants in them next spring and move them outside without any transplant shock."
One negative to the pvc garden is the need to water almost daily. Davis is looking for solutions to that and is considering running a soaker hose through the pipe next year.