---
Check out our FREE Classified Ad sites!
He Loves His ATV Sound System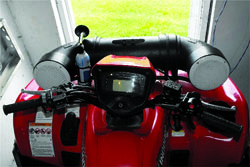 Whether he's at work or play, Norm Belanger's "sound system on wheels" brings him a lot of enjoyment.
The Pickardville, Alta. man loves music and he loves using his ATV, so it just made sense to equip it with a sound system he can drive around with. The sound system was designed and built by his friend, Norm McGregor, of Stony Plain, Alta.
The system is made from simple materials including 6-in. sewer pipe, a small 240-watt amplifier, and 2 waterproof marine speakers. It's strapped with bungee cords to the ATV's front carrier rack and is entirely waterproof, thanks to glue and silicone sealant in the joints. Belanger simply plugs his iPod into the front of the speaker system and then stores it in a waterproof compartment in his Suzuki Kingquad 4x4 750 Axi.
"To build the speaker system, I used a 2-ft. section of 6-in. dia. sewer pipe with a matching elbow on each end," McGregor explains. "I put the amplifier inside the straight section. The speakers fit perfectly in the open elbow ends. It required about 10 hours of assembly."
He also bolted a boat dock cleat to the top center of the unit (sealing it with silicone so it doesn't leak) -- this was originally intended for wrapping the iPod connection cord to, but McGregor realized that it also works great for carrying the system from one rig to another.
Added features are a red light that shows when power's reaching the unit, a green light that indicates there's power going to the amp, and a switch for turning the amp power on and off.
Belanger likes to blast music during recreational rides, pointing out that it's handy in the mountains for scaring off bears, cougars and the like. He also mounted a bear (air) horn on the front carrier for added protection.
According to the country music fan, it's nice to have a little background music at family picnics, and he uses it while working with his quad. "This system would work great on a boat or for using in parades, too," Belanger says. "It's definitely a conversation piece."