Hydraulic-Powered Hitch Pin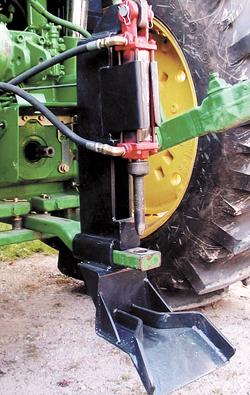 "My homemade power hitch lets me automatically hook up wagons without getting off the tractor," says Howard Weber, Neustadt, Ont.
The hitch operates off tractor hydraulics and slides right over the tractor drawbar. It's held in place by a single pin and consists of a hydraulic cylinder with an 8-in. wide metal guide. A round metal "plug" attaches to the bottom of the wagon tongue, which guides the tongue into position to insert the pin. The tongue is held off the ground by springs.
The hitch pin is activated by a remote hydraulic lever in the cab.
"It's one of the handiest ideas I've ever come up with," says Weber, who made the conversion on his Deere 6410 tractor. "I don't have to leave the cab to hook or unhook implements."
To hook up a wagon, he backs up until the plug on the wagon tongue lines up between a pair of grooves on the guide, then extends the cylinder to drop the pin through the drawbar hole.
"It'll grab the tongue anywhere within an 8-in. 'capture' area. All I have to do is get close," says Weber. "I've used it for four years with no problems. The cylinder applies constant pressure to hold it down snug. It's built strong. I had a metal shop bend the metal.
"I use it when loading big square bales onto a 30-ft. long wagon which holds up to 30 big square bales. I use the tractor's front-end loader to load two bales at a time onto the wagon. I frequently hook up to the wagon to drive to another part of the field to load more bales. I drag a block on a short length of chain behind the wagon's rear wheels, so if I'm on a slope the wagon stays put when I pull the pin out."
The hitch is held in place on the tractor drawbar by a 5/8-in. dia. pin.
Weber's willing to custom build the hitch for others.