Wooden Saddles For Goats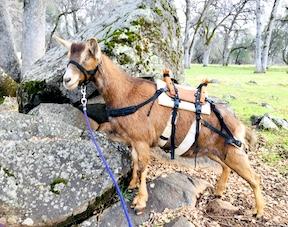 Dennis Willingham makes saddles, panniers, and halters tailored specifically for goats through Butt-Head Pack Goats located in Rough and Ready, Calif. The family-owned and operated business has been running since 1988, with Willingham making every item by hand since the start.
While goats may seem an unusual choice for a pack animal, many breeds are well suited for the task. "A 200-lb. goat can carry 25 percent of its weight (about 50 lbs.) when fully conditioned," says Willingham. "This makes them great for packing out equipment for hiking, camping, hunting, and fishing trips."
You'll need to start bonding and training potential pack goats when they're young and expect them to reach full carrying capacity by four years old. For best success with training, goats need to get used to wearing a saddle from the start.
Every Butt-Head saddle starts as oak and poplar lumber that Willingham cuts, sands, assembles, and stains. He adds the rigging and saddle pads at the end to complete each piece. The saddles are cross buck design and come with quick-release buckles for easy cinch adjustment and faster saddling and unsaddling.
Wood is his material of choice for a reason. "I like the wood design because of its structure and sturdy frame," says Willingham. "The wood cross buck holds the paddles in the correct place. This is better than a soft saddle design that flexes down on the goat's sides when adding weight. When weight is added to a soft saddle, it compresses inward where a wood frame holds its shape."
Using wood is also an aesthetic choice. Willingham explains, "Originally, pack animal saddles were all designed with wood. I enjoy keeping the traditional pack design look."
Each design element aims to reduce the chances of saddle sores to ensure goats can carry their maximum load without discomfort. "My goats have never had a saddle sore," he says. "The key is a well-fitted saddle."
Willingham tends to make his saddles in batches, and most are spoken for before he finishes them. As he explains, "On average, a single saddle and pannier order will ship out in about 2 weeks. Orders are sent out on a first-come, first-served basis. During our busy time of the year or for very large orders, it can take longer. So, order ahead to ensure you have what you need before planning a trip."
Each wooden saddle costs $200 plus shipping and has all the necessary straps, padding, and double cinches.
The best way to order saddles is by email with a list of items you want. The company will clarify any sizing considerations and send you an order total, which can be paid by check or money order.
Contact: FARM SHOW Followup, Butt-Head Pack Goats, P.O. Box 333, Rough and Ready, Calif. 95975 (bhpackgoats@hotmail.com; www.buttheadpackgoats.com).