Hoop Coop Keeps Pastured Birds Safe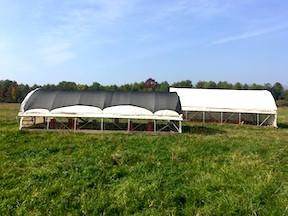 Nathan Henderson's hoop coop is easy to build and keeps his pastured broilers safe from predators as well as 70 mph winds. Henderson and his farming partners raise organic poultry, pastured pork, and grass-fed beef on Reber Rock Farm. Products are marketed in the farm store and from their website with home delivery nationwide every week. He first shared the design details and pictures of the 15 by 24-ft. mobile coop with fellow American Pastured Poultry Association (APPA) members.
"The size and shape have done very well," says Henderson. "We live in a mountain valley and get nasty winds every season, and the hoop coops have never moved. A hot line around the perimeter deters predators, and we can hang 50 gals. of water from the purlins without a problem."
Design details include 2 1/2-in. square steel tubing as a base, 1 3/8-in. top rail for tubing and purlins, plus wiggle wire braces to hold the roll-up sides. He uses retainers on a flatbed wagon for bending the hoops.
"I splurged for wiggle wire channel to hold down the tarp and affix the end walls and roll-up sides," says Henderson. "We have a local quarry that gave me a roll of used belting that I used for the flap to cover the front and rear gaps."
Henderson covers the hoops with white tarp and shade cloth. He uses closed-end walls to extend the season.
"They let us put the chicks out in late April and not finish the last batch until November," says Henderson. "Cold and wind prevention is as important to us as shade and airflow in the summer."
Henderson designed the hoop coops to handle 240 broilers. Two of them let him handle batches of 480 broilers at a time.
"We may build a single coop in the future for the 500-bird batch size," he says.
Henderson recommends the design but suggests a few points to consider before building your own. "What batch size works for you and your processor?" he asks. "Do you prefer welding or drill and bolt construction? Do you have a press, a drill press, a bender, etc.? Do you have experience building greenhouses or a neighbor who does?"
For more pastured poultry coop designs, visit the APPPA website (www.appa.org).
Contact: FARM SHOW Followup, Reber Rock Farm, 1693 Jersey St., Essex, N.Y. 12936 (ph 518-573-8713; nathan@reberrockfarm.com; www.reberrockfarm.com).