Dry Fertilizer Side Dresser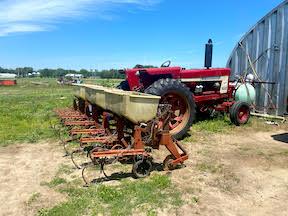 When Earl Pancoast searched FARM SHOW's Archives for ideas to side dress with dry fertilizer, up popped a page from Vol. 12, No. 2. The story featured the late William Stahl, Loysville, Penn. He mounted fiberglass hoppers holding 700 lbs. of dry fertilizer on a toolbar with Yetter coulters and dry application tubes behind them for side dressing no-till corn. His rig also had a row crop cultivator he could attach to the rear in conventionally tilled ground.
"Stahl's rig was just what I was looking for," says Pancoast. "I started looking for the components I needed at local auctions."
He picked up a 6-row, 30-in. row IH cultivator at one auction and a set of fertilizer boxes from a Deere 7000 planter at another one. He also picked up a hydraulic drive cross auger at a third auction.
"I recalled my dad doing something similar with a Minneapolis Moline cultivator and fertilizer boxes," says Pancoast. "Unlike his or Stahl's, which had ground drives, I mounted the hydraulic drive from the cross auger."
The hydraulic drive gives Pancoast more control and a bigger operating window. "Sometimes the corn gets away from me and gets too tall for a ground drive unit," he says. "With the hydraulic drive, I can raise the toolbar up and drop the fertilizer alongside the row. It's not as good as scratching it in, but it works."
FARM SHOW subscribers have unlimited access to the online archives. Simply use the subscriber number on the mailing label of each issue to set up an online account at www.farmshow.com.
Contact: FARM SHOW Followup, Earl Pancoast, Salem, N.J.