Portable Bin Makes Feeding Pasture Chickens Easier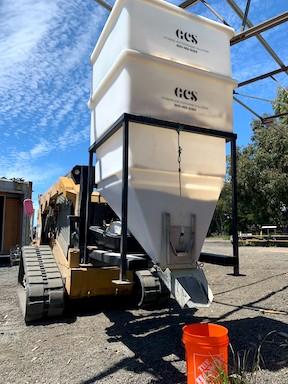 For Caleb Barron of Santa Cruz, Calif., feeding the chickens in his eight 20 by 40-ft. pasture mobile range coops (MRCs) was always a labor-intensive task.
Since he operates on short-term land leases, installing feed silos and pouring concrete aren't realistic options, so he regularly buys his chicken feed in 1-ton super sacks.
In the past, Barron brought the totes to the MRCs and used 5-gal. pails to scoop and transfer the feed.
"It worked but it was a pain," says Barron. "Getting all the feed out of the bottom of the tote takes so much time. We also tried filling 40 buckets and hauling them out on a flatbed truck but were lifting the same pails two or three times. It was ridiculously inefficient."
When friends in Northern California told him about their Jacky Bin and how much they liked it, Barron decided to purchase one.
"From day one, my employees and I loved it," he says. "It's made of food grade poly and comes with a slotted metal frame for carrying it on the forks of a loader or skid steer."
With the bin placed on the ground beside his loading dock, Barron carries a tote up the dock on his skid steer's forks and suspends it above the bin to transfer the feed.
As they use one sack per day, they load the bin in the morning and drive it to the MRCs where they fill two buckets at a time from a conveniently placed metal slide chute on the lower part of the bin.
"It works great," says Barron. "With the small extension we bought along with the bin, it holds an entire tote of feed."
He says the bin plus the additional extension and shipping cost him about $3,500.
Bins can be purchased at www.jackybins.com or www.gcsbins.com.
Contact: FARM SHOW Followup, Caleb Barron, Fogline Farm, Pescadero, Calif. (www.foglinefarm.com).