Super-Sized Mobile Chicken Coops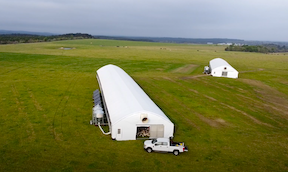 In 2012 Paul Grieve and his brothers started with 50 chicks as a way to get pasture-raised poultry for their families. Grieve put an ad on Facebook for his chickens and sold out quickly.
"We had 110 families that wanted chickens," says Grieve. "The next 2 mos. we ordered 100 each month, and the following month we went to 1,000."
Recognizing an opportunity, the brothers formed a company. Paul quit his job as an accountant and continued expanding the number of birds and the size and number of coops. By 2019 they were raising 500,000 chickens a year. Recently they introduced the Automated Range Coop (ARC) which holds 6,000 birds.
"We needed to be more efficient," says Grieve. "Four years into the business, we were proud of what we had accomplished, but the birds were expensive. We wanted to make pasture-raised poultry more accessible and affordable."
To do so, they needed to maximize efficiency of the coop and find a partner in the vertically integrated poultry industry. They needed access to large-scale hatcheries, feed mills, transportation and distribution.
The ARC is designed to hold 6,000 birds because that's enough to fill a standard poultry transport trailer. It's a 7,500-sq. ft., clear span structure, powered by its own solar array. Electric motors on the drive wheels move the 50 by 150-ft. ARC 50 ft. in 7 to 10 min. That is based on the rate a chicken can comfortably walk. Every day, it automatically moves sideways to fresh pasture. When it gets to the end of the field, the articulating wheels turn 90 degrees, and the ARC moves to fresh pasture on the next swath. The next day it starts a return trip down the field.
"An ARC won't return to the same area for 75 to 90 days," says Grieve. "One unit will cover about 15 acres a year, with each batch of 6,000 birds fertilizing about 4 acres."
Timing of moves and the size of the ARC area are calculated to lay down an optimum amount of manure to improve field fertility without overloading the soil or stressing man or bird.
"It always smells and feels good inside the ARC," says Grieve. "You could sit down and eat lunch there.
"With on-board power, we can have climate control, using venting and overhead fans, even misters if needed," says Grieve. "It can be 100 degrees on bare soil outside and 72 degrees inside. We have curtains we can use if the temperatures fall."
Building the first ARC was a 4-year project involving a team of specialists in a variety of areas. Design and engineering alone were a challenge. The structure needed rigidity and flexibility while being outfitted with wheels that could traverse a rough surface on all types of soil and in all types of weather.
"We had rocket scientists from the Jet Propulsion Laboratory helping us," recalls Grieve. "When they finished, they said they were going to be glad to get back to something simple like a rocket."
At the same time the ARC was being perfected, the Grieves were looking for a corporate home to take their dream to the next level. About 2 1/2 years ago they signed on with Perdue Farms.
He notes that Purdue Farms was the first big poultry producer to add an organic line and the first to go antibiotic-free. Currently, the Grieves' "Pasturebird" ARCs are in place in California and Georgia. They have them placed on a variety of farms.
Contact: FARM SHOW Followup, Pasturebird (info@pasturebird.com; www.pasturebird.com).