Mulch Bagger Saves Time And Money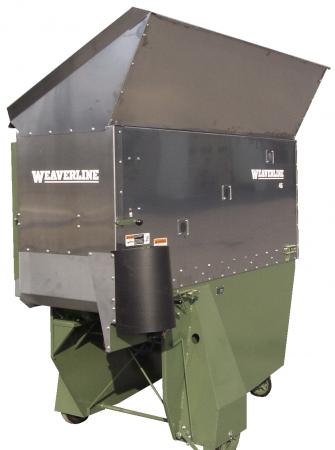 Frank Weaver, of Weaverline, manufactures a portable feed cart that's designed to handle silage. He was approached by a customer who sells bagged mulch. The man had simply mounted the feed cart on pallets and started filling bags.
"It worked but he asked us if we could build one specifically designed for filling bags with mulch," says Weaver.
Weaver points out that compost, wood chips or shredded bark can all be handled by the Mulch Bagger, which is powered by a 1 1/2 hp., dual voltage, 110/220 AC motor.
"We recommend 220 if at a distance from the electric panel," says Weaver. "If it's in a yard away from outlets, it can also run off a small generator."
The original design was raised to accommodate a 2-cu. ft. bag. A heavy-duty rubber guard over the discharge chute drops the mulch straight down and into a bag.
Six plexiglass windows on the side of the hopper and an inspection window on the chute allow the operator to constantly monitor remaining product and the flow of materials.
It features a hydrostatic drive for forward and reverse with controls at the discharge chute. The operator can select from 6 conveyor speeds, while the foot-operated clutch engages the 4 stainless steel augers. Stainless steel slats convey material to the augers inside the stainless-steel hopper.
"From the stainless-steel materials to the heavy-duty bearings, the Mulch Bagger is fabricated for a long life," says Weaver.
The stainless-steel hopper has a capacity of 2 1/4 cu. yards, a loading height of 77 in. and a total height of 97 in. The 20-in. high angled hopper extension on one side makes fills faster and reduces potential spilling. The 51-in. wide hopper has a loading width of 90 in.
"It was designed to be a significant step up from two workers with a shovel and a bag," says Weaver. "One person with the Mulch Bagger can fill up to 200 bags per hour, at least twice what the two-person team can do."
The Mulch Bagger is priced at $5,400. "It is ideal for small to midsize retail nurseries and greenhouses, pretty much anyone selling bulk mulch," says Weaver. "It allows them to take control of their mulch buying requirements and increase their profit margin."
Contact: FARM SHOW Followup, Weaverline, 180 Boot Jack Rd., Narvon, Penn. 17555 (ph 717-445-6724; info@weaverline.com; www.mulchbagger.com).