Pipe Feeders Handle Lots Of Birds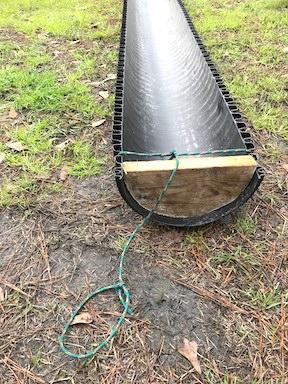 "We were trying to figure out how to feed lots of birds simultaneously," says Jeff Siewicki regarding how he came up with the idea to use irrigation pipe to make poultry feeders. He's used it for more than three years to feed ducks, turkeys and chickens and is enthusiastic about sharing his less expensive, efficient ideas with others with pastured poultry operations.
"I buy double-wall irrigation pipe that has a smooth interior and cut it in half with a circular saw," he says. He uses 8-in. pipe for smaller birds and 12 or 15-in. pipe for bigger birds. He blocks off the ends with pieces of wood and when filled with feed the feeders don't tip or spill feed.
That creates 80 ft. of feeding space from a 20-ft. pipe and allows more birds to eat at a time. That's important Siewicki says, as often weaker birds aren't able to access food at smaller feeders.
By adding a rope to one end, it's also easy to move the pipes when he moves his birds every day or two. He usually cuts the 20-ft. pipes in two to make them easier to move. A 10-ft. 15-in. pipe full of feed weighs about 200 lbs. Siewicki fills the feeders once a day and adjusts the portions if a lot of feed is left, so there is little to no waste. The only issue he occasionally has is that feed can get between the walls. He turns the feeder upside down to clean them out and whenever they are not in use.
When Siewicki purchased his pipe, it was around $100 to $150 for 20 ft., and it has come up in price since then. Still, he says, it's a less expensive and simple feeder that works.
It's one of the ideas he shares through his regenerative Vital Mission Farm in South Carolina, the Success with Pastured Poultry Course he offers and his YouTube channel (Farmer Jeff Siewicki – Cheap DIY bulk range feeder for chickens). More information can be found on his website.
Contact: FARM SHOW Followup, Jeff Siewicki, Vital Mission Farm, 6151 Willcap Rd., Wadmalaw Island, S.C. 29487-7175 (jeffsiewicki@gmail.com; www.vitalmissionfarm.com).