Home-Built Hog Sorter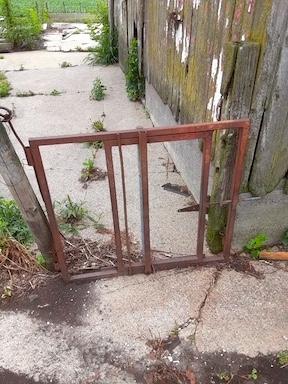 Before Bill Lenker of Wilton, Iowa, retired, he raised hogs, often doing most of the feeding and handling work alone. One job he found difficult was measuring and sorting the finished pigs from the smaller, lighter hogs.
"I was always alone without anyone there to watch the gate, so I thought I had to come up with a way to measure and separate them so I could figure out which ones were ready to go to market and which ones weren't," says Lenker.
He welded up an adjustable gate within a gate, using a 1 1/4-in. square steel tube frame. With a threaded rod for adjustment, he set an opening in the gate big enough for smaller pigs to pass but small enough that larger, finished animals weren't able to pass. The hog sorter gate was fastened beside a regular gate and whenever Lenker wanted to ship some pigs he would close the normal gate and let them go through the sorter. Any pigs unable to make it through the opening would be marked, sorted and shipped.
"Once in a while they'd get their hams stuck and I'd have to open it up a little and let them out," laughed Lenker. "But otherwise, it worked really well. I think it would be a helper on any size pig farm. The hog sorter did a nice job and is a good thing to have, especially if you're working by yourself."
Contact: FARM SHOW Followup, Bill Lenker, 2053 280 St., Wilton, Iowa 52778 (ph 563-890-6645).