Milking Parlor, Creamery "In A Box"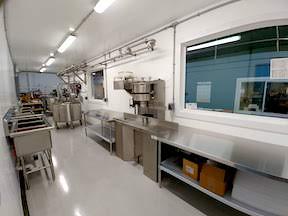 Don's Dairy Supply is building dairies in shipping containers. Whether a milking parlor, milk house or dairy processing plant, each is customized to the needs and goals of the buyer. The company has been building them for about seven years and has shipped them to 17 states, from Fla. to Colo.
"Our first one was a milking parlor for goats," says Brook White, Don's Dairy Supply. "The customer had bought a herd of goats but had no buildings or equipment. The week after the container arrived at his farm, he ordered a creamery to process the milk."
Since then, the company has built around 30 systems in 20-ft., 40-ft. and 45-ft. containers. Containers can be single-use, such as for butter, cheese or ice cream. Or they can be multi-purpose, such as a goat milking parlor and milk house in a single 45-ft. container. Prices vary from $50,000 to $150,000, depending on size and equipment.
Containers are retrofitted to the same features used in building housed installations. Interiors include concrete floors, stainless drains, pvc paneling for walls and ceilings, and filtered air.
She notes that products to be made and the scale of the operation are the biggest factors in designing a system. However, goals and budget are equally important.
"We like to have a conversation about where the customer wants to start and where they want to be in a few years," says White. "There are many ways to start small and grow as you go. You don't want to outgrow your container in six months."
The company works with the dairy inspector of the customer's home state to design an acceptable system. White points out that rules differ from state to state, or even from region to region in N. Y. state.
Containerized milking parlors tend to be designed for milking goats and sheep. However, the creameries are used for any kind of milk.
"For a lot of people, they are a good option for getting started," says White. "Benefits include portability, which is important when renting a property. It is not taxed as a new building and is easier to clean than a large plant."
"Some people get into dairying and then decide they don't like making cheese or whatever," says White. "Our containerized systems can be resold as a complete unit. We've had two customers put their systems up for sale, and they have sold quickly."
Contact: FARM SHOW Followup, Don's Dairy Supply, 349 Roses Brook Rd., South Kortright, N.Y. 13842 (ph 607-538-9464; donsdairysupply@live.com; www.donsdairysupplyinc.com).