Weed Rake Cleans Waterways Fast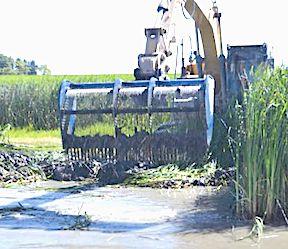 Third generation Idaho rancher Bill Fuchs developed a big bucket rake as an alternative to costly herbicides and other methods when cleaning out irrigation canals and ditches. It rakes out weeds, roots and debris to let the water flow freely. "I've been Water Master for our local canal near Chester, Idaho for the past 15 years," explains Fuchs. "We were using backhoes and having limited success. Herbicides were expensive and not always effective."
Fuchs developed his first prototype in 2008 for use with an excavator. The teeth on the end of the basket allow water and silt to drain through while capturing vegetation and floating debris. With the help of consulting engineers, he brought it into production in Idaho.

Fuchs says he has never had a dissatisfied customer. He has sold units from Idaho to Florida and Montana to New Mexico and Arizona. They've been used to remove moss, flowering rush, bulrush, cattails, lily pads and other plants.
"By removing the roots, it takes years for the vegetation to regrow," says Fuchs. "A friend of mine had a flowering rush problem in the canal he managed. The rake has virtually eliminated the problem in their canal system."

The teeth are the weak link, he admits. "If you hit rock, they can bend, but they also can be straightened or replaced," says Fuchs. "We designed it so a tooth plate can be replaced by removing just 2 bolts."
The 12-in. plates are fabricated from heavy steel to stand up to the lava rock in the area where Fuchs lives and works. Every rake sold comes with an extra set of teeth and 10 additional basket rods. It can be quickly repaired in the field.
Rake widths range from 6 ft. to 16 ft. and are priced from $10,000 for a small one used on a mini-excavator or backhoe up to $22,000 for a large excavator.

"We make them to match the size of the excavator, as they need to be sized appropriately," says Fuchs. "You don't put a 12-ft. rake on a mini excavator."
One of the biggest challenges Fuchs has faced is the lack of uniform hitches among the different brands of excavators.
"All the brands have different configurations, even from one model to another in the same brand," says Fuchs.

One of the advantages is as vegetation is removed, it can be simply dropped on shore. Once out of the water, it dies and breaks down and can later be used as fill.

Fuchs notes that there are many applications for the rakes, from reclamation to flood debris removal.

Contact: FARM SHOW Followup, Maximized Water Management, P.O. Box 57, Chester, Idaho 83421 (ph 208 716-0116; www.maximizedwatermanagement.com)