2-Story Horse Barn Made From Shipping Container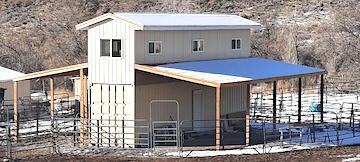 Chris Kornkven, Whitewater, Colo., constructed a mouse-proof horse barn from a used shipping container. By downloading Sketchup (www.sketchup.com), a free program on the internet, he was able to fabricate an 8-ft. wide, 8-ft. tall by 40-ft. long metal storage room on top of the container, adding 14-ft. wide lean-tos on both sides.
"Sketchup lets you draw blueprints with dimensions down to 1/16 of an inch. It works great for designing and printing out plans for building projects like mine," says Kornkven. "I came up with the idea because my wife wanted a mouse-proof shed to store tack and feed for her horses. She loves how it turned out."
He bought the 40-ft. long, 8-ft. wide, 9 1/2-ft. high container from Container One (ph 330 286-0526; www.containerone.net). "With shipping from Denver, Colo., the container cost about $3,200," says Kornkven. "We laid down a gravel foundation before the delivery, and the driver dropped the container down exactly where we wanted it."
He used a bottle jack to raise the corners of the container one at a time, and set paving stones under them and at various other points along the bottom of the container frame to make sure it was level.
"The container had no holes to deal with and no rust, so I painted it inside and out. Then I used a right angle grinder to cut out holes for side doors. I also cut a hole in the roof for a stairway," says Kornkven. "To build door frames I cut 2 by 4's in half and placed them on either side of the metal, then screwed them back together through the metal."
Once the stairs were finished, he built a floor for the upper storage room and also installed the walls, rafters, and roof. "I welded angle iron brackets to the container roof, then bolted the flooring to the brackets to keep the floor from shifting or flexing," says Kornkven. "I used a rented bucket lift to install the storage room's roof and added metal siding. I then built the lean-tos by setting posts and installing their rafters and roofs."
"My wife is happy with the barn, so I haven't bothered to total up the final cost," says Kornkven. "Anyone interested in plans for building projects involving shipping containers can find plenty of videos online."
Contact: FARM SHOW Followup, Chris Kornkven, 5462 Kannah Creek Rd., Whitewater, Colo. 81527 (ph 970 241-3371; ds_vet91@yahoo.com).