One-Of-A-Kind "Truck Desk"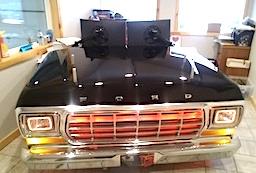 The front end of a 1979 Ford F-150 pickup, bolted onto a big custom-built office desk, makes an interesting conversation piece in Jerry Conrad's new office building in Mondovi, Wis.
The pickup and desk sit on a custom-built frame made from parts off an old Ford Mustang. Underneath the hood is a compact refrigerator laid sideways, with compartments for beverages at either end.
The first thing customers see when they walk into the office is the pickup's hood and grille, along with a pair of side-by-side computer screens that stick up behind the hood. The grille is backlit with lights that automatically change colors, and are synchronized to blink on and off with songs played on a radio and stereo installed in a "dash" under the computer monitors. The headlights also change colors. An inverter underneath the desk operates all the lighting.
Cor Furniture of Mondovi, Wis., designed and helped build the desk with a curved front to match the curvature of the hood. The company specializes in the custom design and construction of furniture. A 1/2-in. thick wooden panel secures the desk to the hood. The desk has big soft close drawers on either side.
"We displayed it last year at a local home and garden show in Eau Claire, Wis., where it received a tremendous amount of attention," says Conrad.
He cut the hood off the pickup and built the frame that supports it, and added a new grille. "We had to turn the refrigerator's pump sideways so it would work properly. With help from Cor Furniture we added wooden beams along both sides of the hood to support the hood's hinges. They look just like the ones on the real 1979 F-150," says Conrad.
Then Cor Furniture did the rest. "They built the cabinets and doors on back of the desk and formed everything to fit the pickup body. Madison Street Auto Body in Eau Claire did the paint work, and my son did the lighting work," says Conrad.
From his office desk, Conrad can see the antique stairway railing he built by welding together several steel wheels, of various sizes, off old wagons and cultivators. The 11 1/2-ft. long railing is welded to a length of angle iron, which is bolted to the hallway floor outside his office.
"I left the wheels unpainted because I wanted to keep their rustic look," says Conrad. "I applied muriatic acid mixed with salt to all the welds to match the color of the wheels."
You can watch a video of Conrad's truck desk on Facebook by typing in "Cor Furniture".
Contact: FARM SHOW Followup, Conrad's Auto Salvage, E9889 10th Ave., Mondovi, Wis. 54755 (ph 800 353-4611; ext. 202; conauto@wwt.net).