"Stonebine" Clears Rocks From Fields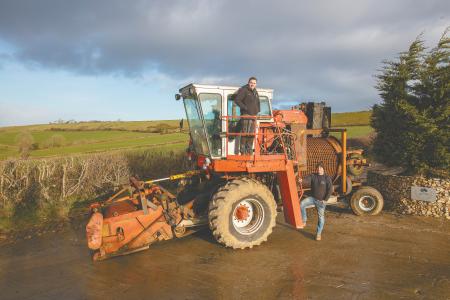 The flint rocks that Jack Bailey and his crew pick out of fields near Lyme Regis, England, are worth $65 a ton in good condition for use as building materials. Commercial rock pickers have spring tines that flip rocks into a hopper, leaving them dirty and breaking off razor-sharp shards that stay in the field.

The men spent 5 years designing and building their "Stonebine" on the chassis of a 1970's Massey Ferguson combine. They stripped almost all components off it except the engine, axles, and cab. A 6-ft. wide digging head up front scoops the rocks onto a conveyor that carries them back to a rotating screen that cleans the rock and feeds it to an
elevator that unloads to a following wagon. To give you an idea of how much rock they can "harvest", they picked up 1,250 tons from
a 10-acre field in one day.

British farm magazine Farmer's Weekly (www.fwi.co.uk/ ) holds an annual invention contest for its readers. Machinery Editor Oliver Mark generously shared some of the amazing results from this year's contest.