Bi-Rotor Combine Updates, Field Tests Underway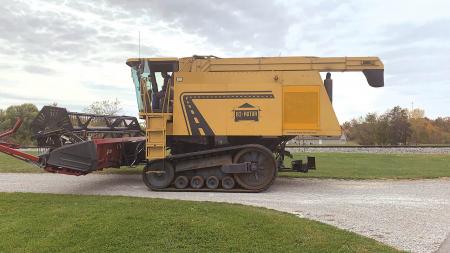 The innovative and nearly lost Bi-Rotor combine is getting some updated features before hitting the fields next fall, notes Dave Hockemeyer, Davaus, LLC. It was Hockemeyer and company co-founder Austin Ehle who bought the machine at an auction a couple years ago when it looked like it was headed for the scrap pile (See "Did Deere Bury The Bi-Rotor Combine?" Vol. 42, No. 6).
"The XBR-2 is our test machine," says Hockemeyer. "We took it to the field this past fall and harvested some soybeans and corn. We will be back in the field again this fall after updating some features for functionality."
One of the first updates made was to replace the engine, as well as touching up the electrical and hydraulic systems. In addition to the tracks and steering, the company is also evaluating the feeder housing and how the rotor is fed. One change being made for the coming season is to update the feeder housing to accept different OEM and after-market heads.
Steering and track systems are on the list for upgrades, although they will remain unchanged for the 2020 season. While the flotation and maneuverability of the full-track system remains a key feature of the combine, Hockemeyer points out that it is 20 years old. "A lot of improvements have been made in track technology," he says.

Weight loss is a major goal. Other changes that are expected include a new skin/look to the outside and substantial updating of communications technology. The latter includes adding an ISOBUS system for everything from engine/transmission communications to tracking yields and other data.

Two things the co-founders promise to maintain are its inherent simplicity (only 3 drive belts) and its grain storage and handling. As Ehle described it in a company video, "It is a 1994 combine with the grain handling capacity of a modern combine."
"We love the huge grain tank up on top," says Hockemeyer. "Our key thrust is to maintain the prototype's efficiency. It won't have a lot of the creature comforts found on today's combines that require extra horsepower and add to the cost and weight of the machine."
A major focus of work this summer and in the field next fall will be a better understanding of the bi-rotor.

"We have to pull the rotor out for some maintenance and will be testing it in both heavy and light crop conditions," says Hockemeyer.
Fans of the XBR2 have been clamoring for its availability since news that Davaus was planning to bring it to market. Hockemeyer and Ehle stress that the process is expected to take several prototypes and multiple years.

"As improvements are made, we will have to protect them with patents," says Hockemeyer. "We think some of the improvements we make may be quite disruptive to the market as we try to make growers more productive and efficient."
The company also has to develop a dealership network with parts and service capability. Ehle points out that service may be different from conventional OEM systems, given the nature of overnight delivery. It also may be affected by the simplicity the company hopes to maintain.
"We are exploring other opportunities related to service and the ability of our customers to work on the combine in their own farm shop," says Ehle.

The company is using social media, in particular the Davaus Facebook page, to keep interested growers up to date. Progress may not be as fast as hoped, acknowledges Hockemeyer.
"The COVID-19 pandemic has affected our sister company's manufacturing capacity," he notes. "Regular workflow is at a halt, and that influences work on the VariBINE."
The sister company is one of many that have responded to health care worker needs. It has put its 3-D printers to work producing protective faceplates needed by medical personnel.
Hockemeyer is confident that near-term concern will not have a long-term affect. He and Ehle are looking forward to bringing a final prototype to market. They expect it to be in the same ballpark as current Class 5 or 6 models.
"We are exploring sizes with growers," says Hockemeyer. "In time, there may be multiple models, but our primary focus is on developing a solution in one single size model."
Contact: FARM SHOW Followup, Davaus, LLC, 14508 Bruick Dr., Hoagland, Ind. 46745 (ph 260 2450-5006; info@davaus.com; www.davaus.com).