Amazingly Powerful "Do Anything" Dozer Bucket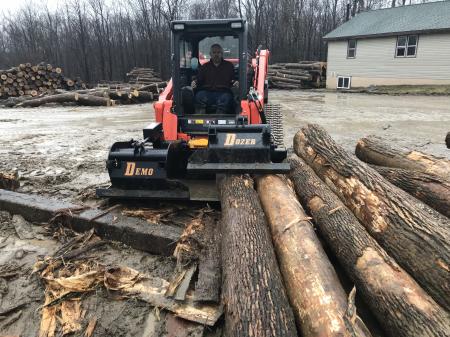 The Demo-Dozer does just about anything you can imagine when it comes to tearing things down, picking them up or pushing them around. The unique skid steer attachment is a dozer, clam bucket, material bucket, log handler, 4-in-1 bucket and receiver hitch. It's all that plus a demolition grapple with the dexterity of a finger and thumb and the strength to break concrete.

"I had a man ask me what it could do," recalls John Waddington, Demo-Dozer Attachments. "There was a can of soda near by, and I reached over with the Demo-Dozer and plucked the straw out of the can. Then I picked up some nearby plastic cones without crushing them before I went over to grab some concrete busted it up."

Waddington explains that the Demo-Dozer can replace 6 to 8 attachments in one unit. "I've sold them to farmers, landscapers, construction companies and to companies in the oil fields," he says. "Customers tell me having the Demo-Dozer is like having a powerful hand on the front of their machine. "

Waddington got the idea for the Demo-Dozer when he transitioned from operating a landscape company to demolition.

"I bought a conventional skid steer grapple fork and used it for a week thinking it was a waste of money. All it could really do is pick up debris," says Waddington.
He welded a blade onto the grapple arms that gripped across the full with of the bucket. That changed everything.

In the end he built a bucket with 2 grapple arms with blades. Unlike a clam bucket, the grapple arms are narrower than the blades. This makes it possible to angle the bucket and open blades around an object like a post, grip it and pull it vertically out of the ground. Unlike grapple arms, the blades are more like dozer blades for pushing material ahead of the bucket. At the same time the Demo-Dozer retains all the versatility of a bucket.

Waddington began building them 14 years ago. "The second one I made is still in use, and the owner says it still works great," says Waddington. "I've had no warranty problems other than a couple of cylinder leaks and one part failure, which I shipped out the next day."

He uses Grade 50 steel in the body and for most parts, Grade 80 steel in the 3/8-in. thick tines and 3/8-in., Grade 50 steel in the front dozer plates.

"I use American steel, and if I can get the other parts made here, I do," says Waddington.

Special features include removable side plates on the bucket, with 2 chain hooks and from 2 to 4 receivers on the face of the grapple blades.

The Demo-Dozer ranges in size from 60 in. ($4,246) to 84 in. ($4,682) and is built by TM Manufacturing in Minnesota.

Waddington has a second style of Demo-Dozers that's designed to let dirt fall through when picking up a rock pile, they come with a removable floor plate to expose tines spaced 6 in. apart. They also range from 60 in. to 84 in. and start at $4,200. An optional rock insert with tines on a 3-in. spacing is priced at $650.

"There's also a snow kit," says Waddington. "Just remove the side plates and replace them with the bucket extensions. They add 18 in. to each side. You can move tons of snow with them in place."

The Demo-Dozer is also available in a 42-in. width for use with walk-behind mini skids.
Waddington doesn't advertise. He built the business largely by word of mouth and sometimes from places he doesn't expect.

"A guy from Texas ordered one," recalls Waddington. "He had been in Florence, Italy, and saw a Demo-Dozer being used to pull out railroad spikes, remove the rails and replace them. He asked the workers where it was built. They told him, but I have no idea how one ended up in Italy."

Contact: FARM SHOW Followup, Demo-Dozer Attachments, 16900 S. Beckman Rd., Oregon City, Ore. 97045 (ph 408 375-2809; demodozer@gmail.com; www.demo-dozer.com).