"Gourd Corn" Dates Back To Founding Fathers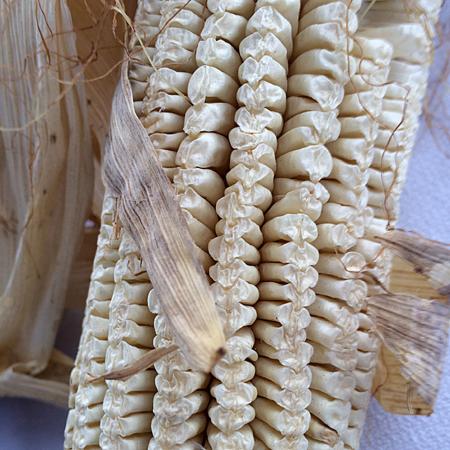 Virginia White Gourd Corn was grown by both Thomas Jefferson and George Washington on their farms. The large kernels with a dent on the back have been described as looking shriveled. The tapered, flattened white kernels are similar in appearance to gourd seeds.

"Gourd corn makes a nice cornmeal," says Peggy Cornett of the Thomas Jefferson Foundation. "It's definitely not a corn to eat off the cob unless it's really young and tender."

As curator of plants for the Foundation, Cornett oversees growth of this and many other varieties and species found at the farm and gardens of Monticello. Historical records indicate the Virginia White corn was planted at the plantation in 1810. George Washington is thought to have planted it in the 1760's.

"We only grow about 35 plants in the garden," says Cornett. "We save back seed for ourselves and package a small amount of it for sale in the store."

The corn is described as being 10 to 12 ft. tall with 1 or 2 ears per plant. Like the rest of the 2-acre gardens at Monticello, the corn receives compost and organic fertilizers as needed. Cornett notes that the corn hasn't shown many problems with pests. The one exception is crows.

"We start the corn inside and then transplant seedlings," says Cornett. "Otherwise, crows and others will take the seed."

The Foundation bought its Virginia White Gourdseed corn seed from Southern Exposure Seed Exchange (SESE). Due to the limited amount of seed available at the plantation, Cornett suggests FARM SHOW readers contact SESE for seed (www.southernexposure.com; ph 540 894-9480).

Virginia White Gourdseed corn seed harvested at Monticello is priced at $3.95 for approximately 40 seeds in a packet. SESE prices its Virginia White Gourdseed corn at $2.95 for 1 1/2 oz.

Contact: FARM SHOW Followup, The Monticello Shop, P.O. Box 318, Charlottesville, Va. 22902 (ph 800 243-1743; www.monticelloshop.org).