Old Combines Great For Small Acres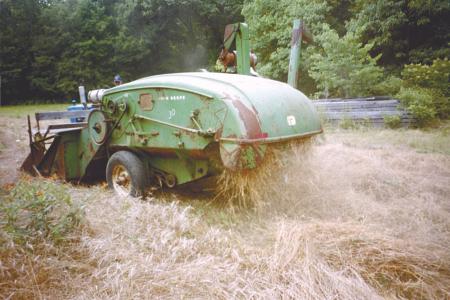 Havah Gordon has no time for expensive, imported, small-scale combines to use on small acreages. When she wanted to harvest a few acres of wheat, she bought a 1959 Deere 30 pull-type for $200.
"The combine had spent a lot of time sitting, and I had to get inside to clean out all the nests and such," recalls Gordon. "I spent about a year fixing it up."
She replaced most of the bushings and bearings, a bunch of paddles, and even added a Hart Scour-Kleen grain cleaner.
"For the first harvest I didn't have the cutter bar working, so we harvested the wheat with a sickle and carried it to the combine to thresh it," she relates.
By the next harvest, Gordon, who works off the farm as an airplane mechanic, had the cutter bar working too. She used it for one more harvest and then put the combine in storage.
"I fixed them up in the first place to grow my own organic wheat," says Gordon. "I had been having health problems and hoped that would help solve it. By the third harvest, I discovered I had Celiac disease so I couldn't eat gluten-containing wheat. That was what was causing my health problems."
Gordon says the combine, and a Deere drill she also restored, are sitting in her machine shed. "If someone gave me $5,000 I'd load it all on a trailer," she says.
While the combine required a lot of parts and time, she says she actually spent more money repairing the drill, including replacing tires.
"I paid $200 for a casting that holds the cultivator wheel and the tube for the seed drop," she recalls. "Then I found a drill for parts, and now I have 60 to 70 extras."
Finding combine parts was more time consuming than costly. Other than a $15 link for a single no. 45 removable link chain that is no longer available, most were inexpensive. Finding a second John Deere 30 for parts helped." I literally had to cut down trees to haul it away," says Gordon.
When she couldn't find a Deere grain cleaner, she found one built for an Allis Chalmers All-Crop at a Missouri salvage yard. The main difference was the Deere unit sat to the rear of the hopper while the Allis Chalmers unit was mounted at the front.
"I had to reverse a couple of chutes that were just sheet metal," she recalls. "I also needed screens and found a guy on the internet who would make them."
Gordon found the combine forum on Yesteryear.com to be very helpful, both for parts and advice. She notes that John Deere has an online parts counter for old tractors, combines and other equipment.
"My combine cost me around $4,000 with parts, a couple of special tools, an original manual, and transportation from Michigan to Oklahoma, where the farm was," says Gordon. "That's a whole lot better than a new small-scale import for $55,000."