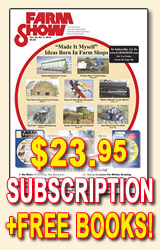 FREE CLASSIFIED ADS
Sponsored by FARM SHOW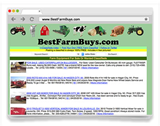 ---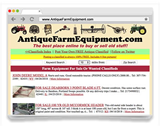 They're Switching Grain Cart Augers To The Right Side
FARM SHOW Magazine
» They're Switching Grain Cart Augers To The Right Side
They're Switching Grain Cart Augers To The Right Side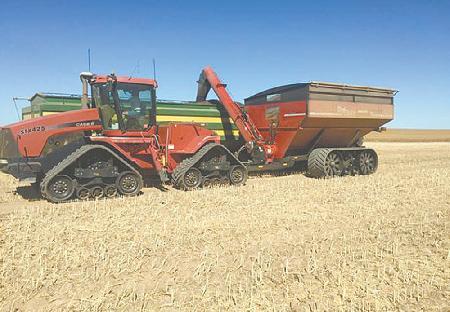 Manitoba equipment manufacturer Mike Friesen says the right-hand auger discharge grain carts he's been building for Australian farmers have started attracting interest in Canada and the U.S. "Farmers in Australia have told us that carts with right-hand discharge are a lot easier to use. When you're looking to the right, most people can control the tractor clutch a lot easier than when looking to the left."
Friesen agrees with that assessment because he's both a manufacturer and a grain farmer. He says that after most people get used to the idea of the right-hand discharge, it's safer and more comfortable for the cart operator. It also results in less fatigue during long harvest days.
Australian farmers Stuart and Simon Smart say that passengers sitting in a tractor buddy seat don?t interfere with right-hand unloading. They add that operators must always remember to fold the auger in after unloading so it doesn't interfere with the discharge auger on a combine when the cart's being filled.
Friesen says there's no room for error in that regard, and some farmers who've tested his right-hand design in the past year have suggested installing a warning signal to remind operators to lower the discharge auger when the cart's empty. That's one idea he may incorporate into the right-hand carts the company produces for 2018.
More good news for buyers of the right-hand discharge is that they don't cost any more than a left-discharge model. Friesen says the components are mostly the same, with the same hydraulics and slightly different mountings. In addition to offering the right-hand option on new Elmer's carts in 2018, the company is also building adapter kits that will convert existing left-hand discharge Elmer's carts to the right-hand configuration.
Canadian grain producers harvesting edible beans with a Deere 9500 or 9600 have modified those machines for right-hand discharge using kits from Schnell Industries.