Frankenstein Gourds Sell Like Hotcakes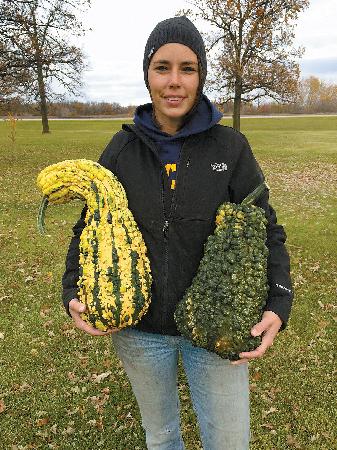 Jerica Olson created a Frankenstein gourd patch by mixing a bunch of pumpkin and gourd seeds together and letting them cross-pollinate. Customers bought up the bumpy, warty, colorful gourds by the armfuls.
"We put one packet of every variety we planted (44) into a bucket and shook all the seeds up," she explains. "Then we planted the seeds about 6 in. apart in four rows 15 ft. apart and waited to see what would happen."
The patch was inspired by her father's food plot where he grows orange pumpkins to feed wildlife. Olson's mother suggested they set up a highway produce stand to sell some and through the years the patch grew and became mostly Olson's project, helping to pay for college.
"We've always had kind of an eye for the weird stuff," Olson says. She first added blue pumpkins (Jarrahdale squash), then white pumpkins and warty gourds. The ever-changing and oddball gourds created a following of customers at the one event she attends (Goosefest in Middle River, Minn.) and at the Olsons" roadside self-serve stand.
This fall she added Porcelain Doll F1 Pink pumpkins contracted from the Pink Pumpkin Patch Foundation (www.pinkpumpkinpatch.org), which requires growers to donate a portion of sales to the foundation.
The pink pumpkins and the Frankenstein gourds were a hit, Olson says.
"The most fun was wandering through 3-ft. high leaves until we would find something," she says. "My favorite was a white gourd 3-ft. long, 10-in. diameter at the base, pear shaped and curved like a gooseneck with lime-green warts."
Olson priced the crossbred gourds the same as she does normal pumpkins and gourds, according to size " small gourds 5/$1, pumpkins $4 and large gourds $3.
The quarter-trailer load of weird gourds sold out the first day of the Goosefest.
Olson took photos and kept the most unusual gourds to save seeds for next year's patch. She's eager to see what the Frankenstein seeds will do in future years. Hopefully they will help pay off college loans and graduate art school tuition.
Contact: FARM SHOW Followup, Jerica Olson, Olson Farms, 32323 U.S. Hwy. 59 N.W., Newfolden, Minn. 56738 (ph 218 689-5181; jericaolson8@gmail.com).