Mini Gooseneck Built For Polaris UTV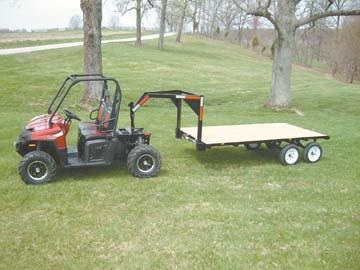 Chris Rahman prefers gooseneck trailers to bumper hitches, so when he built a trailer for his Polaris Ranger, he went gooseneck. The gooseneck design offers better weight distribution on the utility vehicle, just as it does on a pickup or truck.

"I see all kinds of accessories for UTV's, but never a gooseneck; yet it's really handy," says Rahman. "I can use it to haul 2 big round bales at a time."

Rahman says steering is good even with the heavy load. The trailer is 5 1/2 ft. wide and 10 ft. long with a stake bed. The frame and the hitch are 2 by 3-in. rectangular, 1/8-in. thick steel tubing. The corner of the gooseneck hitch is reinforced by a 1 by 1-ft., 1/4-in. steel plate gusset.
Axles for the trailer are equipped with spring shock absorbers from golf carts. Rahman keeps them set at their lowest setting, leaving room to ride even with heavy bales. The 22-in. tall tires bring total bed height to 26 in., and total trailer weight is about 600 lbs. empty.

The vertical post for the gooseneck was fabricated from 18-in. long, 3-in. dia. pipe. A 2 1/2-in. dia. pipe inside the 3-in. pipe makes it easy to adjust the height of the gooseneck. A clevis design connects the pipe with the base on the UTV bed.

Rahman went with a clevis design instead of a standard ball to allow greater travel on rough ground. He took the bed off the Ranger and made a plate to bolt to a cross member on the frame. He attached the clevis directly to it.

"I can remove 2 of 4 bolts to lift the plate up to service the air filter," says Rahman. "If I disconnect the gooseneck, I can replace the bed and the lift mechanism without removing the clevis base."

Rahman outfitted the trailer with LED lights for loading the trailer and for backing it up. He has about $1,800 invested in the trailer. Although he isn't planning on building the trailers to sell, he admits that everything, including it, is available for a price.

"If I built another one, I would lower the gooseneck some to get more travel over rough ground," says Rahman. "My next project is to build a small camper unit that can ride on the trailer."

Contact: FARM SHOW Followup, Chris Rahman, 10488 W. Oak Hill Rd., Birdseye, Ind. 47513 (ph 812 630-0861; crahman24@yahoo.com).