"Drop Trap" Catches Entire Wild Hog Herds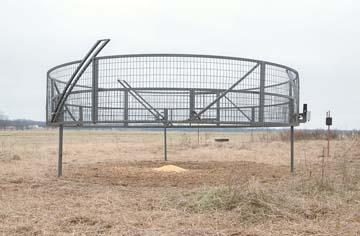 The Samuel Roberts Noble Foundation has a new way to control wild hogs. The BoarBuster corral sets above eye level, allowing hogs to come and go without fear until an operator triggers the unit remotely.
"With conventional traps, non-target animals can't get out and hogs often won't come in," explains Josh Gaskamp, Noble Foundation. "If a group of wild hogs gets trapped, the ones who aren't caught get educated to stay away in the future."

The Oklahoma-based agricultural research foundation is a leader in innovative farm and ranch management as well as wildlife techniques. One research team had been using remote-released overhead drop nets to capture deer for research. They tried the same technique on hogs. It worked.

"We were able to capture up to 86 percent of hogs in an area with drop nets versus 49 percent with standard corral traps," says Gaskamp. "That was enough to control the population, and it didn't educate the ones who weren't caught. You need to eliminate approximately 70 percent just to keep up with annual reproduction."

One reason for the effectiveness was that hogs don't have predators overhead so they don't look up.

They developed a double ring corral that could be assembled from sections on site in as little as 30 min. When set up, both rings are above hog height. Hogs can enter and leave in all directions.
The foundation worked with Tactical Electronics, Tulsa, Okla., to develop a cell phone and internet based video camera view and trigger system.

After baiting, a remote operator can watch the site anywhere internet service is available. When the majority, if not all, of a group of hogs is inside the corral area, the operator triggers the corral, and the outside ring falls to the ground in a rotating motion. The inner ring remains elevated to prevent the hogs from jumping out.

"I once triggered the BoarBuster while watching a baseball game in Oregon," recalls Gaskamp.

Unlike static traps, non-target animals are not caught. Capture rates of hogs were even better than with overhead nets. Gaskamp reports catching 44 hogs at one time.

"The Boar Buster captures 88 percent of feral hogs in an area," says Gaskamp.

The Noble Foundation has worked with W-W Livestock Systems to bring the BoarBuster to market. First units are expected to be available June 1, 2015. Units are priced at $5,995 for the trap and camera. Cellular service varies.

You can see a video of the BoarBuster in action at www.farmshow.com.
Contact: FARM SHOW Followup, W-W Manufacturing, ?8832 Highway 54, Thomas, Okla. 73669; (ph 800 999-1214; boarbuster@pldi.net; www.wwmanufacturing.com) or The Samuel Roberts Noble Foundation, 2510 Sam Noble Parkway, Ardmore, Okla. 73401 (ph 580 223-5810; www.boarbuster.com).